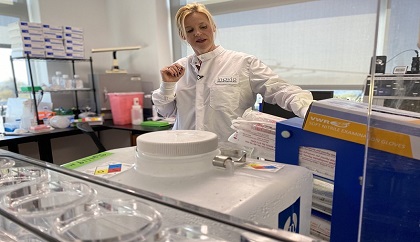 Dr Kate Broderick and her team at pharmaceutical giant Inovio in California are currently working on a coronavirus vaccine
It is hoped a coronavirus vaccine could be ready by December, thanks to the work of a Dunfermline scientist's team in the US.
Dr Kate Broderick's team at pharmaceutical giant Inovio in San Diego, California isn't wasting any time to have it ready by the end of this year.
Human clinical testing will be taking place next month.
She has welcomed the UK Government's £210 million commitment to speed up the creation of the vaccine.
The funding was announced by Prime Minister Boris Johnson last Thursday at a virtual summit of G20 leaders, before he himself was diagnosed with COVID-19 the following day.
Dr Broderick says her own family's fears about the virus is motivating her to get the vaccine created.
Her husband is immunocompromised and her sister works as a nurse treating coronavirus patients in Glasgow.
Dr Broderick is also a mum-of-two.
You can hear some of her thoughts about the funding boost and what the next steps are in the process to create the vaccine:
The UK Government's International Development Secretary Anne-Marie Trevelyan said: "This UK Government support will be vital in efforts to find a coronavirus vaccine and treatments, which will ultimately help stop its spread around the world.
"We are backing experts, including the UK, to find solutions as quickly as possible to this pandemic.
"This will ultimately help us to save lives in this country."