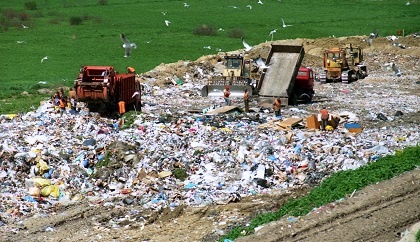 Fife Council's Environment Convener is calling on people throwing waste away at closed recycling centres to stop.
The facilities are currently not in operation and were initially shut last week, in line with government advice on social distancing and also to protect the public's safety.
Councillor Ross Vettraino says those leaving their rubbish behind are adding to the pressure faced by staff.
The refuse collection staff absence rate has been at least half during the pandemic, with one shift having 75% off work.
You can hear more from Councillor Vettraino, including on what to do with waste which cannot be contained in refuse bins:
Meanwhile, the local authority is warning anyone fly-tipping at recycling bins could face a £200 fine.
There is currently no announced date for when recycling centres across the Kingdom will re-open again.
The closure of facilities remains in place for the time being.
Head of Assets for Transportation and Environment at Fife Council Ken Gourlay said: "We apologise for any inconvenience this may cause, but we ask that everyone follows the government's strict instructions at this time and not make any non-essential journeys and undertake non-essential activities.
"We thank you for your help in keeping people safe and looking after the local environment.
"We're are working hard to ensure that we continue to pick up domestic bins from the kerb, so that there's no need to travel.
"We ask that only bins that need emptied (more than half full) are put out for collection to help relieve pressure on our reduced collection teams.
"With the closure of the household waste and recycling centres, and the suspension of the bulky uplift service, residents should ensure that large items intended for disposal are stored safely away from communal areas.
"It's that time of year when people are getting on with garden maintenance and D.I.Y - brown bins continue to be collected for garden waste, so please store any excess waste responsibly."