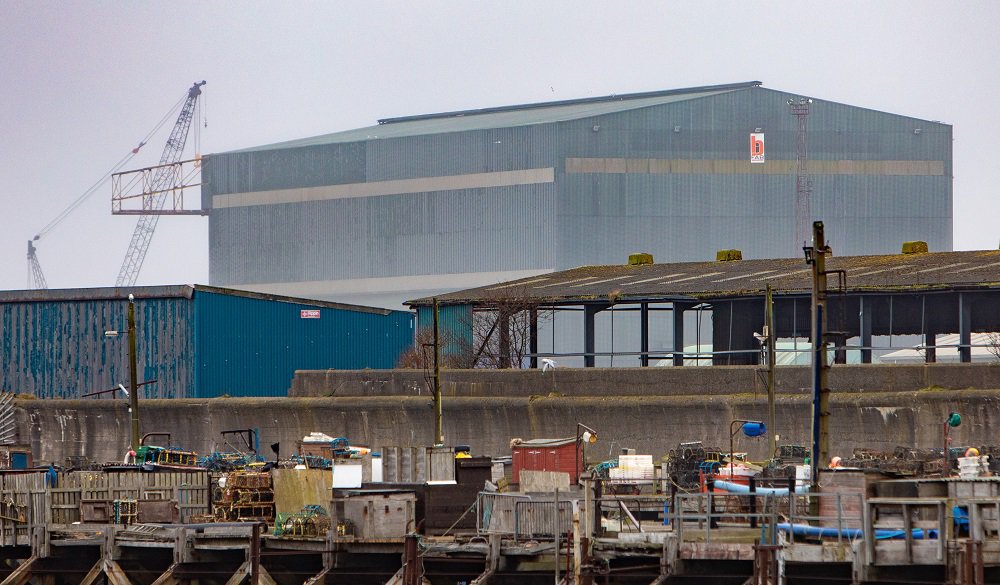 Fife's Methil fabrication yard is to reopen - with the creation of about 290 direct and indirect jobs.
The yard's owner, InfraStrata, has secured a contract to build eight wind turbine generator jacket foundations for the Neart na Gaoithe offshore wind farm.
The contract is scheduled to get under way in July.
It comes after the collapse of the yard's previous operator BiFab, which led to fears that the yards in Methil and Burntisland would no longer provide employment for local workers.
The Methil yard now operates under the Harland & Wolff brand, following its buyout of the site earlier this year.
John Wood, CEO of InfraStrata, said: "We are delighted to have entered into this contract with Saipem and I believe that this contract paves the way for the execution and delivery of future fabrication contracts, a significant number of which are currently in advanced negotiations.
"The geographical proximity of our Methil facility to the North Sea makes it an ideal site for fabrication and load-out to wind farm projects such as this.
"More importantly, it validates our strategic vision of expanding the group's fabrication footprint into regions that are strategically located within proximity to major wind farm projects.
"This will enable us to spread workstreams across our facilities to drive down costs, deliver against tight schedules and, crucially, align ourselves to the government's goal of providing wind generated power to all homes in the UK by 2030.
"I am confident that this is only the beginning of a stream of projects in our pipeline that we expect to come to fruition. We are hugely excited about the massive potential that this first contract has unlocked, and we look forward to working with Saipem to successfully deliver under it."
In a statement, joint trade union secretaries Pat Rafferty from Unite and Gary Smith from GMB said: "This is a welcome development, a working yard is better than an empty yard, but it has to be the first steps in a long journey of investment and contracts for our offshore wind supply chain.
"We need to take the opportunity now to work together and set out an industrial plan for Scotland's future, it's the vital ingredient that has been missing since devolution and we can't succeed without it."