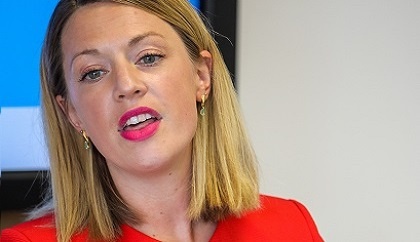 Glenrothes MSP Jenny Gilruth is urging affected employees to get in contact with her office
The MSP for Glenrothes has described the news of 75 job losses at ceramics manufacturer CoorsTek in the town as 'devastating'.
Jenny Gilruth is encouraging affected employees to contact her office for support.
She has also got in touch with Scottish Enterprise to ask for assistance for the firm and its workers.
The company, who's plant is at Southfield Industrial Estate, will close the site early next year.
A number of factors such as a downturn in the market as a result of the coronavirus pandemic and the possible impact of Brexit are being blamed.
The American company has been present in the town for nearly four decades.
It was supplying parts for use in disposable thermometers and respirators during the Covid-19 crisis.
A consultation with affected workers has started.
The town's local MSP is very sorry about the news of the closure: