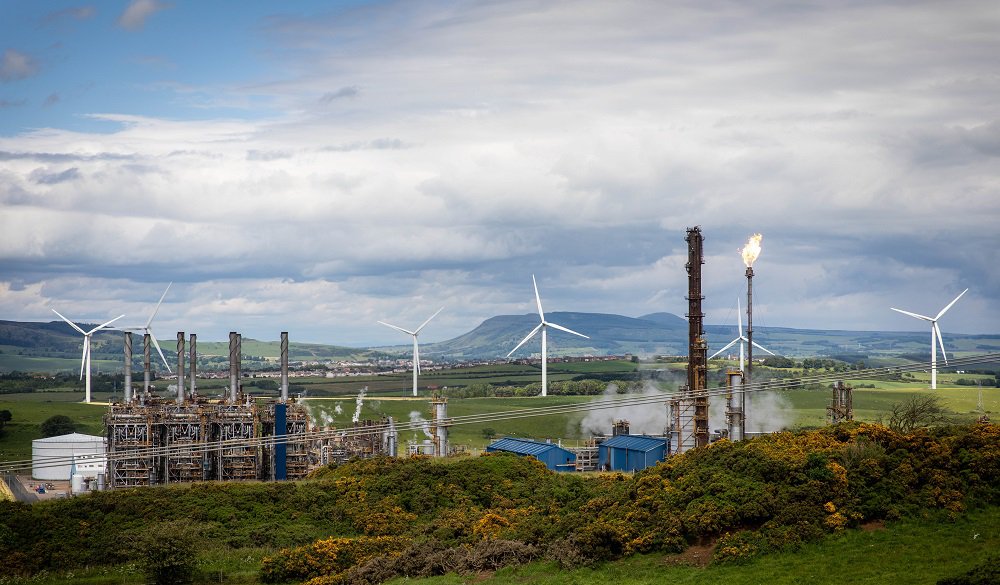 ExxonMobil has announced it will start preparations later this week to stand down operations at its ethylene plant at Mossmorran - ahead of works worth £140 million.
Work will begin this Thursday before the process to stand down the plant begins next Monday.
Locals are being warned that a period of flaring will take place as part of the work.
Martin Burrell, the plant manager, said: "To help minimise any community disruption, we have taken a number of steps ahead of the stand down to reduce required flaring.
"We are currently estimating that we will exit our elevated flare by the end of April 12 – with the size of the flare decreasing relatively quickly during its use.
"After this, we will use the ground flares for around two days with volumes also continuing to decrease during that time."
In a community notice, Mr Burrell said that there is also flaring planned at the neighbouring Shell NGL plant.
He added: "As you may already be aware, we have elected to conduct the work in April to coincide with maintenance from the North Sea, including St Fergus Terminal in Peterhead and at our neighbouring FNGL facility at Mossmorran – this co-ordination will reduce the total volume of flaring.
"As this maintenance begins, the flow of gas to FEP will be stopped.
"However, the gas that was already on its way will continue, arriving at the plant some four days later.
"At this point, the process gas compressor – which pushes gas through FEP – will be switched off and the arriving gas safely diverted to the flare.
"With the plant no longer in production, we can then begin emptying all processing units of any residual gas – again, this is safely directed to the flare.
"Once these processing units are empty, they can be safely accessed to begin work."
Ahead of our £140m upgrade project, we know you may have questions about why we use our flare to stand down our operations.
We hope this short animation helps explain our processes 👷‍♀️👷🛠️ pic.twitter.com/xCmX3r3b8U

— exxonmobil_fep (@exxonmobil_fep) April 7, 2021
At the Shell Fife NGL plant, an elevated flare will be used between this Sunday and next Thursday, with a ground flare to be used from that Thursday until Sunday.
Craig Burnett, plant manager at Shell Fife NGL plant, said: "The work we have planned at Fife NGL includes refurbishments and upgrades to the inlet to the Fife NGL plant from the main pipeline from St Fergus, and its associated valves. ​
"Some of the work will be provided by around 60 contractors.
"In line with Scottish Government guidance, we have embedded a wide range of stringent measures to help keep workers at the site safe and healthy during Covid-19.
"While simultaneous work and major investment at the neighbouring Fife ethylene plant requires shared use of the ground flares on site, we plan to use the Fife NGL elevated flare for low volumes of ethane between 11 and 15 April, and then the ground flares between 15 and 18 April as we shut down Fife NGL plant processing so that we can begin work safely.
"The ground flares are less visible during the day but can cause a glow to be seen locally at night.
"We then plan to reintroduce volumes to the plant on May 6, and use the Fife NGL elevated flare for low volumes of ethane through the month of May.
"This is for two important reasons: first, to enable methane gas to be separated at St Fergus Gas Plant for the National Grid to supply homes, businesses and power stations at a time when this supply is needed.
"And second, for the Fife NGL plant to continue the supply of propane, butane, and gasoline that thousands of customers rely on."
SEPA says it is content that plans are in place to minimise the impact on local residents and businesses.
Terry A'Hearn, CEO, said: "The work ExxonMobil Chemical Limited is beginning next week marks an important milestone on the site's pathway to compliance.
"We have been clear that flaring, while an important safety feature of industrial facilities, will become the exception rather than routine and new infrastructure will help address the issues that cause most disturbance to local people.
"The £140m upgrade of the ExxonMobil Chemical Limited Fife Ethylene Plant, together with SEPA's ongoing stringent regulatory requirements and permit variations, will significantly improve the reliability of the Fife ethylene plant, reducing the requirement for flaring and significantly reducing the community impact of flaring when it does occur."