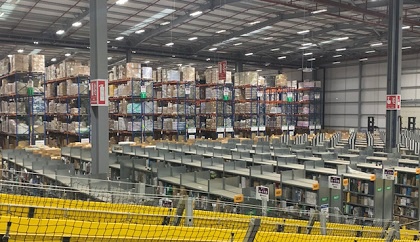 A worker from Amazon's Dunfermline base has been diagnosed with coronavirus.
The Courier reports the individual, who works on night-shift, started to feel unwell five days ago.
The person was sent home and the company is supporting the member of staff, who is in quarantine.
Meanwhile, areas of its centre is continuing to be deep cleaned, with regular sanitisation of all vertical surfaces, door handles, lockers, scanners, stairway handrails and other high-touch surfaces taking place.
Amazon adds employees are required to sanitise and clean their work stations at the start and end of each shift, with staff being regularly informed that hand washing for 20 seconds is necessary.
Measures are also in place to ensure there is social distancing of 2 metres, including no stand-up meetings during shifts and food provision being changed to only pre-packaged goods in a 'grab and go' format.
There are visual ground markers to ensure the maintenance of distance and to make it easily visible.
A spokesperson from the company said: "We are supporting the individual who is now in quarantine.
"Since the early days of this sitatuon, we have worked closely with local authorities to proactively respond, ensuring we continue to serve customers while taking care of our associates and we're following all guidelines from local officials about the opeartions of our buildings.
"We have implemented proactive measures at our facilities to protect employees including increased cleaning at all facilities, maintaining social distance in the FC, and adding distance between drivers and customers when making deliveries."
Meanwhile earlier today, it was reported a member of staff from Bosch Rexroth's factory at Glenrothes tested positive for COVID-19 and the firm has been in contact with the affected employee's family, with the individual concerned last in the office on March 20.
The firm says protective measures are in place.
A spokesperson for the engineering company said: "Bosch Rexroth continues to operate with a series of protective measures in place to ensure the necessary social distancing precautions, in order to minimise the risk for our associates, in line with published guidelines.
"In the Glenrothes plant, along with the facilities we operate globally, we continually review our practices and approach to the fast moving challenge that the coronavirus poses.
"We are committed to the health, safety and well-being of our associates and will continue to monitor the situation closely."