"Haud yer Wheesht!" Silent Disco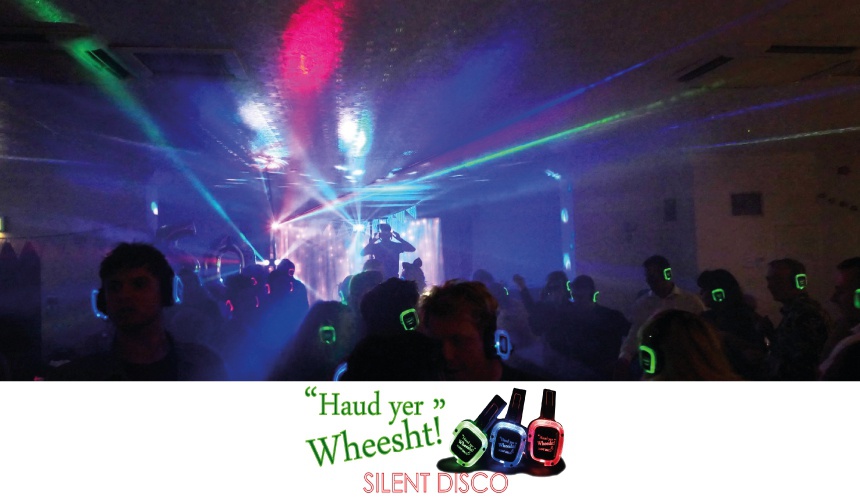 Win 90 Minutes Silent Disco with "Haud Yer Wheest" Silent Disco ! WORTH £425
Haud Yer Wheest Silent Disco offers an event where everyone that attends wears wireless headphones to listen to music.
Unlike at a regular music event no sound is amplified into the room by speakers but instead music is broadcast via radio transmitters that the participants can then tune into using their own headset.
Their Silent Disco is capable of transmitting 3 Channels of Music so at any one time guests at our events can select from 3 seperate mixes transmitted by our Silent Disco DJ(s).
There is a switch on each headset that allows the user to manually select which of the three channels they wish to listen to at any point in the night and there is a volume control so each person can select however loud they would like the music.
Our headsets also change colour Red, Green or Blue depending on the channel selected. Because of this you can tell which of the three channels your friends and family are listening to at any time. This enables you to dance and sing to the same songs together or indeed you can just do your own thing!
***Picture The Scene***
At any one moment in time the choice could be:
Red "Disco Inferno"
Green "Rhythm Is A Dancer"
Blue "Mr Brightside"
(what channel would you choose?)
This results in a dancefloor a wash of different colours and packed with a variety of outrageous dance moves and guests singing their hearts out. Equally as enjoyable to dance & sing with others as it is to step back, remove your headset and watch the fascinating scene taking place on the floor… absolutely priceless!
To find out more visit hywsilentdisco.co.uk or Like them on Facebook.

Competition Terms & Conditions
You must be available on Sunday 13th May 2018 to attend the Live Final at 10 am.
The Wedding will be held at the Doubletree by Hilton Edinburgh Queensferry Crossing on Friday 12th October 2018.
You must not have already booked your Wedding at the Doubletree by Hilton Edinburgh Queensferry Crossing.
You must be ordinarily resident in the Council area of Fife.
Prizes can be found here - www.kingdomfm.co.uk/win/win-your-wedding/win-your-wedding-full-prize-details/
All wedding prize dates have been reserved. They are not transferable. Couples must be able to fulfil their remaining wedding arrangements and legal requirements for the confirmed wedding date of Friday 12th October 2018.
Any additional items or services required for the wedding which are not included in the prize will be at the expense of the winner.
You must be at least 18 years old and may be asked to provide proof of age.
Prizes are subject to availability. There is no cash alternative to any part of this promotion or its prizes.
Receive special offers, exclusive members only competitions, and more.
Sign Up
Log In