What Dessert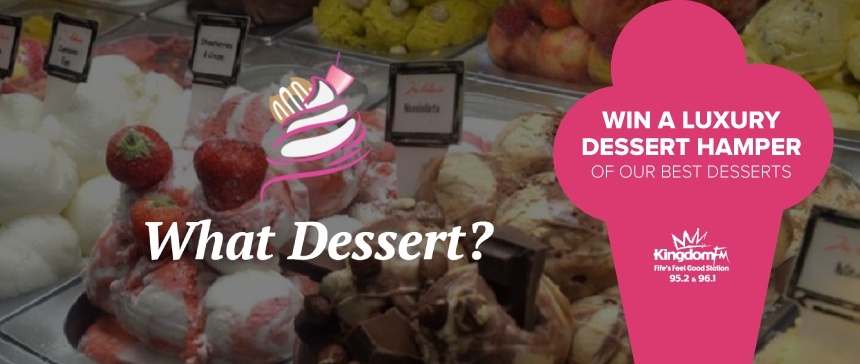 When Vivian in accounts gets cranky and Tony in Sales starts shouting, there's only one thing to do… cheer them up with mouthwatering treats delivered straight to your work courtesy of Kingdom FM and 'What Dessert?', the largest dessert parlour in Fife!
At 'What Dessert?' you'll find generous portions of the best desserts around… waffles, crepes, donuts, Belgian sticks, twenty four flavours of ice cream and over a hundred different sweets! Find out more at whatdessert.co.uk or find them on Facebook. You can also visit them at - 151 Sea Rd, Methil, Leven KY8 2EE.
For your chance to have a mouthwatering hamper packed full of waffles, ice blasts, milkshakes, donuts, cheesecakes and more delivered to your work this Friday lunchtime, just fill in the form below and tell us why you and your workmates deserve an extra special treat.
The 'What Dessert?' hamper will include:
· 1" thick waffles (our signature) · 2 full size waffles - kinder teaser (Fresh Baked Waffle topped with crushed Maltesers, kinder bueno with drizzles of Milk and White Belgian chocolate) & chocolate heaven (Fresh Baked Chocolate Waffle topped with Nutella and drizzled with Belgium white chocolate.) · 2 ice blasts · 2 milkshakes · Jumbo Candyfloss · Fresh popcorn · 8 freshly made donuts · 4 slices of cheesecake · Cinema style popcorn · Variety of sweets Belgian Sticks (marshmallows with belgian choc on a stick)
Receive special offers, exclusive members only competitions, and more.
Sign Up
Log In