Kiss The KA with Scrap a Car Scotland.com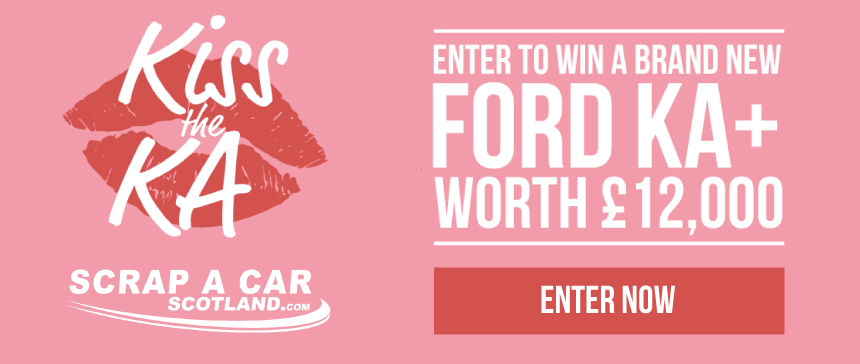 Kingdom FM's celebrating 20 years as Fife's favourite radio station and sharing the love by giving away a prize like no other. In fact, it's our biggest ever single giveaway.
We've teamed up with scrapacarscotland.com, who promise to give you their best prices every time, to give away a brand-new Ford KA+ Zetec 1.2 Ti-VCT worth £12,590!
Registration is now closed but on Saturday 20th October we'll hold our live final at The Kingdom Shopping Centre in Glenrothes, just outside Rothes Halls. Come down to the Kingdom Shopping Centre and watch our 20 finalists compete to win the car... we are there from 9am.

Images for illustration purposes only.
Visit scrapacarscotland.com to get the best price for your vehicle today!
Terms & Conditions
You must be 18 years or older and live within the Kingdom FM transmission area and have a postcode that begins with KY.

All finalists will be required to come to the Kingdom Shopping Centre, Glenrothes on Saturday 20th October 2018 at 8.45am for a

9am

start, the final will be complete by

3pm.

All finalists must be prepared to receive a call back from Dave & Vanessa, Euan or Darren live on air week commencing 15th October 2018.

All finalists will be required to compete in various elimination style games to play the final game of Kiss the KA… to win the grand prize.

No aiding support will be allowed during the competition (example – camping chairs, tripods, etc…)

Competitors will be required to wear a blindfold and headphones at some point throughout the game and must be comfortable with this.

You may nominate someone to take your place – this must be communicated before the final.

The final will be broadcast on Kingdom FM, Facebook live and our other social media platforms.
Receive special offers, exclusive members only competitions, and more.
Sign Up
Log In