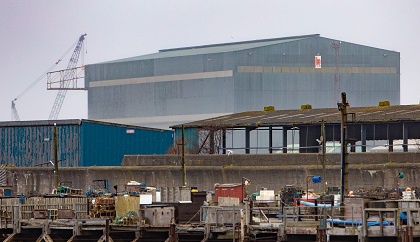 A Holyrood committee has expressed its concern over the "lack of transparency" during investment decisions made by the Scottish Government and company bosses over BiFab.
The firm, which ran yards in Methil and Burntisland, collapsed into administration last month - after the fabricator was unable to secure contracts for the construction of wind turbine jackets.
The Scottish Government withdrew financial backing for the company - of which it was a stakeholder - citing EU state aid rules.
The Scottish Parliament's economy, energy and fair work committee has been investigating the circumstances which led to the company's collapse.
In a report published today, MSPs said they were "extremely concerned" over the lack of transparency in decision-making by both the yards' owner DF Barnes, which bought BiFab in 2018, and the government.
The committee also says that the company's failure is a "concerning reflection" of the ability of Scottish businesses to benefit from the offshore wind industry.
The committee is now calling for any future subsidy regime post-Brexit to make sure UK manufacturing jobs are given a fair opportunity to compete with low-wage economies.
Committee convener Gordon Lindhurst MSP said: "The failure of BiFab is a huge blow for workers and communities in Burntisland, Methil and Arnish.
"It is also a concerning reflection of the ability of the Scottish supply chain to benefit from the growth of offshore wind.
"It is now vital that the administrators find a buyer to secure the future of the company.
"The committee is extremely concerned by the lack of transparency on the part of both DF Barnes and the Scottish Government over their decision making and use of public funds.
"Both cited the pre-acquisition business plan as corroboration of their position, but despite repeated requests neither shared this business plan with the inquiry.
"The evidence to our inquiry indicated that, for a number of reasons including financial viability and state aid rules, neither DF Barnes nor the Scottish Government felt able to provide the finance required to secure the vital contracts BiFab needed to avoid administration.
"The financial loss to the public purse of BiFab failing as a company demonstrates the need for greater accountability and transparency, and for the Government to set out its overarching policy on strategic investment in failing companies."
A Scottish Government spokesperson said: "The Scottish Government is committed to sound and transparent management of the country's finances to deliver the best outcomes for the people of Scotland and to stimulate a sustainable recovery from the coronavirus pandemic.
"Ministers welcomed the opportunity to present evidence to the committee during its inquiry. We will consider its recommendations carefully and set out our response in due course."
Deloitte was appointed administrator of the firm last month - it says it cannot comment on events which preceded its involvement with the company.