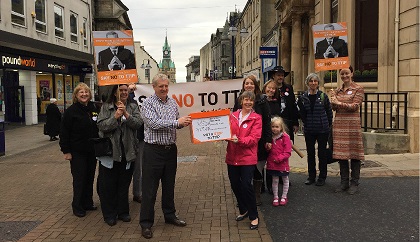 Anti-TTIP protesters in Dunfermline in September
Fife Council could be set to formally reject a proposed trade deal between the EU and US
A motion is being voted on today, which - if passed - means the Kingdom will join Edinburgh, Glasgow and West Dunbartonshire councils in opposing the Transatlantic Trade and Investment Partnership - known as TTIP.
There are fears it will allow American firms to sue the Government here if they feel they are financially disadvantaged by our laws.
Campaigners also claim it paves the way for NHS privatisation.
Councillor Karen Marjoram, who brought the motion to council, said: "Transatlantic Trade and Investment Partnership negotiations are secretive and undemocratic, all available information on this deal comes from leaked documents, and from Freedom of Information requests.
"If this assault on democracy was not enough, it's the covert nature of these talks that causes me concern"