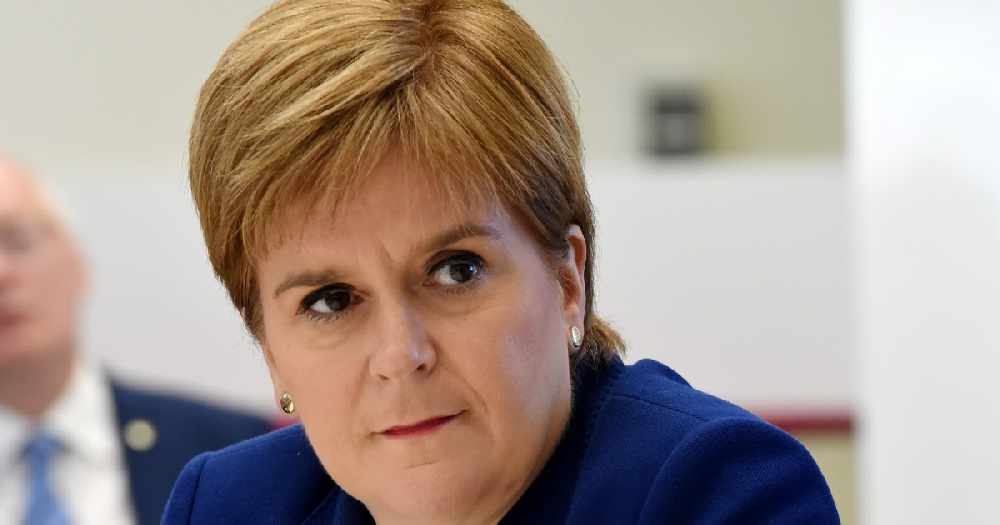 The first minister has announced a raft of new coronavirus restrictions - including a fresh ban on meeting other households.
Rules also include a 10pm curfew for bars and restaurants from Friday, in an attempt to limit the amount of time people spend in hospitality venues.
From tomorrow there will be a ban on meeting other households indoors, with some exceptions - such as those who are part of extended households or couples who do not live together.
People will be able to meet in groups of up to six from two different households outdoors, or in other public spaces.
There are different rules for children, with kids exempt from the limits of meetings outdoors.
Meanwhile Nicola Sturgeon says working from home remains the norm - and there may be enforcement action taken against companies that do not take this approach.
And she has also told people to avoid sharing car journeys with people from other households.
The rules will be reviewed after three weeks, but the first minister says they may be needed for longer than that.
However, she says they will not necessarily stay in place for six months, after reports that they would be applied longer-term.
It comes after another 383 people tested positive for the virus across Scotland - which is 7.6% of those newly tested.
In her statement to parliament, Ms Sturgeon said: "From Friday, pubs, bars and restaurants will be required to close at 10pm.
"Now, people sometimes ask me why we don't just close pubs again altogether - and I understand that sentiment.
"The answer - to be frank - is that we are seeking to find a balance between action to suppress the virus and the protection of people's jobs and livelihoods.
"If the Scottish Government had greater powers to borrow money, or the ability to extend the Job Retention Scheme, for example, it is possible that we could reach a different balance of judgment on some of these issues. But we don't.
"So this decision today means that we can reduce the amount of time people are able to spend in licensed premises, thereby curtailing the spread of the virus, while still allowing businesses to trade and provide jobs. This is the best balance we can strike for now.
"But I want to be clear with the hospitality trade about this. Notwithstanding the economic implications, further restrictions, including possible closure, will be unavoidable - locally or nationally - if the rules within pubs and restaurants on hygiene, face coverings, table service, maximum numbers in groups, and the distance between them are not fully complied with.
"I want to thank those businesses, I believe the majority, that are making huge efforts to ensure compliance.
"However, to ensure that this is the case for all, we will be providing resources for additional Environmental Health Officers and asking local authorities to significantly step up inspection and enforcement.
"Let me turn now to the most difficult part of today's announcement - further restrictions on household gatherings.
"We know from the data available to us through Test & Protect that a high proportion of new cases come from social interactions between different households in our homes.
"We also know from Test & Protect - and perhaps more so from our own experiences - that it is much more difficult to maintain physical distance – and have, for example, good ventilation - inside our own homes.
"We also know that when the virus infects one person in a household it is highly likely to affect others in the same household. It will also infect people visiting that household, who will in turn take it back to their households.
"Therefore, difficult though this is, any serious effort to reduce the R number below 1, which must be our objective, must take account of this key driver of transmission and it must seek to break that driver of transmission.
"So after careful consideration, we have decided that from tomorrow, to be reviewed every three weeks, and with exceptions that I will come on to, visiting other households will not be permitted.
"To be clear, this extends the restriction that has been in place across the West of Scotland for the past three weeks to all of Scotland. Regulations giving effect to this change will come into force on Friday, but I am asking people to comply from tomorrow.
"One of the reasons we have decided to do this is that our early data suggests this restriction is starting to slow the increase of cases in the West of Scotland.
"So if we take the difficult decision to extend it nationwide now, in an early and preventative way, we hope it will help to bring the R number down and the virus back under control.
"There will be exceptions for those living alone, or alone with children, who form extended households; for couples in non-cohabiting relationships; for the provision of informal childcare by, for example, grandparents; and for tradespeople.
"But for everyone else visiting each other's houses will, for now, not be permitted.
"These new restrictions apply to people's homes - in other words, to private indoor spaces.
"Rules for meeting other people in public indoor spaces that are subject to strict regulation and guidance, remain the same – you can meet with one other household only and in groups of no more than six people.
"As I said earlier, we will be working with local authorities to strengthen inspection and enforcement in indoor public places and enforcement action, including closure if necessary, will be taken against shops, pubs, restaurants or other premises that do not ensure compliance.
"You can also continue to meet with one other household in groups of up to six people outdoors, including in private gardens.
"Outdoors, though, we intend to exempt children under 12 - both from the limit of six and the limit of two households. There will be no limits on the ability of children under 12 to play together outdoors.
"And young people aged 12 to 18 will be exempt from the two household limit - they will be able to meet together outdoors in groups of up to six, though we will need to monitor this carefully and let me stress that this is outdoors only.
"And let me say to teenagers in particular - I know how miserable this is for you and I am so grateful for your patience. We are trying to give you as much flexibility as we can at this vitally important time of your lives. In return, please work with us and do your best to stick to the rules, for everyone's sake."
She continued: "The last new restriction I want to cover today relates to travelling by car. It may seem minor but it is important.
"We know, again from Test & Protect data, that sharing car journeys presents a significant risk of transmission.
"We are therefore advising against car sharing with people outside your own household.
"Finally, I think it's important that I indicate today, in light of the current situation, that the route map changes with an indicative date of 5 October are unlikely now to go ahead on that timescale.
"I also want to touch briefly today on an issue that has been the subject of media speculation in recent days - namely the possibility of a so called circuit breaker, timed to coincide with the October school break, and during which people would be given much more comprehensive advice to stay at home.
"The Scottish Government has not made any decision at this stage to implement such a policy - however, we are actively keeping it under review.
"What I would say to people now is this. Please think of the October break as an opportunity to further limit social interaction, particularly indoors.
"And, given that this is a global pandemic, please do not book travel overseas for the October break if it is not essential.
"Finally, I want to say a few words to people who were shielding earlier in the year. I know you will all be feeling particularly anxious.
"However the best way to keep you safe is by reducing the spread of the virus in our communities – which is what today's measures are all about.
"The steps I have outlined today will help keep you safe, so please follow the guidance for the general population with great care."