TC Debt Solutions
DEBT FREE – WITH TC - IS EASY!
Don't Ignore Your Debts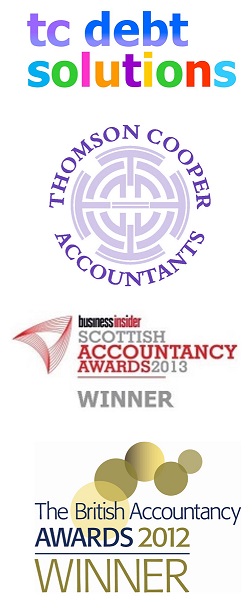 Are you facing a debt crisis? Struggling to cope? TC Debt Solutions in Dunfermline, Fife can help. We have a proven track record of getting people back on the right financial track.
The earlier you start to deal with your debt the more options you will have. And TC Debt Solutions can help you every step of the way. We can advise on the Scottish Debt Arrangement Scheme (DAS), debt consolidation, debt management plans and much more.
Our dedicated team has a lifetime of collective experience in giving free debt advice to the people of Fife and indeed, the whole of Scotland. We offer a free and confidential service that will allow you to take the first step to a debt free future.
Call us FREE on 0800 046 3328 and find your debt solution today.
We will always seek to apply the most appropriate solution to your particular situation under the strictest guidelines you would expect from a licensed Insolvency Practitioner.
What our clients think.
I used to go on a forum for people in a similar position to myself. There were some real horror stories on there and my heart would go out to the people concerned. They weren't just about their own financial situation, many were complaints about the practitioner working on their behalf, and on reading them I used to be so grateful that was never me! Right from day one, three long years ago, you have kept me informed with everything and any question I had, of which they were many (!) was answered promptly with the indication that it was no trouble at all to provide an answer. Then of course there was the discharge which seemed to be text book, and going back to the forum with stories of people waiting months and even years for theirs, to have it done and dusted within a week of my final payment was just brilliant! So thanks again Susan, to yourself and everybody at Thomson Cooper who had an input in my case, it was very much appreciated.
I would like to take this opportunity to thank you. I've never felt like you've judged me or looked down on me which was my big worry in going to anyone about my debt. I feel like I can finally get on in life so thank you. I would have no hesitation recommending yourselves and company.
Thomson Cooper Key Facts
History
Thomson Cooper was formed in 1949 when founding partners T. Hunter Thomson and Harold Cooper acquired a small practice in Dunfermline. The firm has expanded from these small beginnings to its present complement of six Partners and around 50 staff. Their new purpose built office is located just off the M90, less than five minutes from the Forth Bridge.

Services
We are Fife's largest independent accountancy practice to offer a full range of accountancy and business advisory services, including -

Specialist Tax and Audit Teams
Insolvency Department
Financial Services
Software and Systems Support
IT Consultancy
Marketing Consultancy
Business Development Programme that assists, on average, over 400 delegates annually to enhance their knowledge and improve their skills through a series of seminars and training opportunities
Awards
Scottish Accountancy Awards –

2013 'Training Manager of the Year' – Associate Elaine Cromwell
2010 'Best Small Firm of the Year'
2008 'Best Small Firm of the Year'

British Accountancy Awards –

2013 Finalists in 'Mid-Tier Firm of the Year'
2012 'Community Award' (beating KPMG)

Sage 'Accountant of the Year 2010' – Associate Elaine Cromwell