SM Electrical Supplies
Quality at SM Electrical Supplies Ltd means doing what they say they will do, the first time, every time.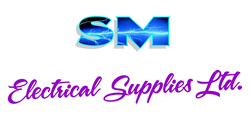 SM Electrical Supplies Ltd was founded in 1988 by Steven MacDonald, with a small bank loan and an outbuilding. Over the past 25 years the business has continued to grow and develop – 3 moves and 2 re-brandings bring us up to present day in our Rosslyn Street building. This year SM Electrical Supplies are celebrating 25 years in business and will be running exclusive promotions and advertising campaigns throughout the year.
A new website will be up and running by the summer, and a Facebook page which will allow you to see up-to-date promotions and special offers as they become available
SM Electrical Supplies Ltd are proud to have been members of the Independent Buyers Association (IBA) since 2005. Established in 1993, it is one of the most respected and successful electrical buying groups in the UK. Having the backing of a major buying consortium enables us to offer you a full range of products (over 30,000 to choose from), keeping quality of service to a maximum and prices to a minimum.
SM Electrical Supplies are confident that they can offer you some of the most experienced and knowledgeable sales staff in the industry. Giving advice and assistance on your purchases, they ensure you leave with exactly what you want, whether it's from our Lighting Experience Showroom or Trade/Sales Counter - and if they don't have what you want, they'll do our best to get it for you - that's a promise!