Mayas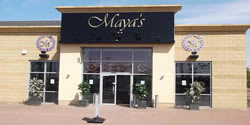 From the Punjabs of the subcontinent....To your table here in Fife, Maya's Indian restaurant brings you the authentic taste of both India and Pakistan.
Delicious dishes made by International chefs....
using only the finest locally sourced ingredients....
Traditional cooking.... served in contemporary settings,
Surely, Maya's HAS to be the very best of both worlds.
Experience the TRUE taste of India with a 2 course lunch menu only £5.95, A delicious a La Carte menu and children's menu too...
Maya's the new Fine Dining Indian Restaurant at Fife Leisure Park, Dunfermline, open 7 days, noon to 10pm.
Maya's
Fife Leisure Park
Dunfermline
Fife
01383 729999
Some of the fantastic reviews on Facebook:
Stuart Murray
First time at Maya's last night. Service was very good. Food was superb. Definitely will be back again.
Marie Wilson
Absolutely fantastic! Not too spicy very flavoursome even my 12yr old son who always complains about something said his korma was brilliant. Definitely going back
David Paget
Just been to Maya's for a lunch with Alison. Starter, Main and drinks. £16. Superb food superb service. Superb restaurant and value for money. High recommend this place.
Some of the fantastic reviews on Tripadvisor:
"Best Indian meal I've ever had"
My husband and I have just had a meal before going to the cinema and I come almost sum up Maya's with one word......FANTASTIC!!! The food was amazing and the staff were very attentive. We will definitely be back, numerous times if I have anything to do with it. A wonderful culinary experience
"Very nice lunch"
Went for lunch today with my husband and two children. It was a very reasonably priced business lunch (just £5.95 for two courses) of good quality, complemented by being in a modern smart restaurant with attentive and polite staff.
"Fantastic Indian cuisine"
Had the 2 course £5.95 lunch and it was excellent value for money. Started off with the chicken pakora which was served with salad and sauce my partner had the chicken tikka and we were both impressed with the freshness and quality of the food. For the main I had the Kerala fish curry and my partner had the Kashmiri korma and again we were very impressed with the portion size and the quality ingredients used. We would highly recommend and will definitely be making a return visit. Another note to mention is the staff are very attentive and make you feel very very welcome.