St Andrews Day Competition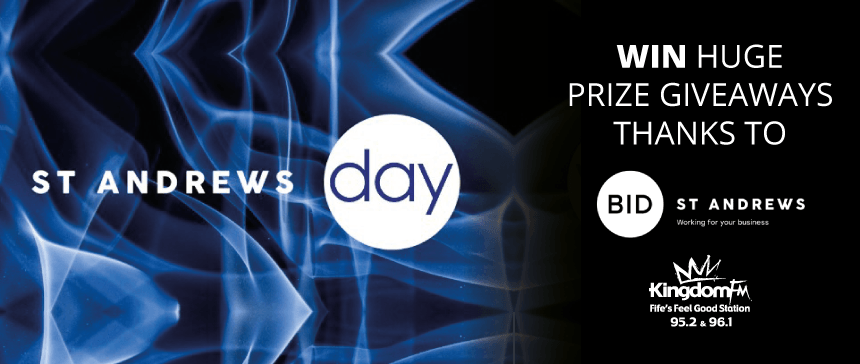 Win with BID St Andrews and Kingdom FM
St Andrew's Day in St Andrews
Saturday 2nd December 2017
St Andrew's Day Celebration
Are you looking for a day of family fun? Look no further than the St Andrew's Day celebrations on Saturday 2nd December! With a range of events on offer, have a wonderful day out exploring the streets and ancient monuments of St Andrews, join lantern making workshops, attend circus skills workshops and lots more!
From 10am to 3pm on South Street, there will be a Christmas market complete with a Santa Claus, food trucks from all over Fife, and Christmas-themed activities and crafts run by student groups at St Andrews University. There will be free entry and activities; come help us celebrate over 600 years of vibrant history!
After the festival, there will be the annual ceilidh hosted by comedian Susan Morrison on South Street and led by the Kilrymont Ceilidh Band, followed by a lantern procession down to the Harbour where you will be treated to a fireworks show above the cathedral ruins!
There's no better place to celebrate our national saint's day than in the town 'At the Edge of the World' where legend has it, St Andrew's bones were brought.
Kingdom FM, BID St Andrews and St Andrews Live are giving you the chance to win a bit of St Andrews with prizes from local businesses. All you have to do is tell us the total value of all the prizes listed below and the entry that is closest to the actual total will win them ALL*.
Artery: Gift Vouchers
The Tailend: 2 tickets to our chefs table
Jewel: Gift Vouchers
Rose Cottage: 2 Night Stay
Bonkers: Jellycat brand, 51 cm tall unicorn
Rascals Bar: 2 Course Meal for 2
Fairmont: Champagne Savoy Afternoon tea for two
Burger UK: Meal for two (burger, fries and soft drink or shake)
Tesco Metro: 6 Bottles of Prosecco
Kingsbarns Distillery Vouchers
Trespass vouchers
St Andrews Gin Fayre 2 x Masterclass Tickets for Session 1
* if there is more than one entry with the exact answer the winner will be drawn from correct entries.

Circus skills workshop (Town Hall)
PyroCeltica will host circus skills workshops to complement the other events during the day. This is a paid workshop @ £5 per person and is open to all ages and abilities.
Family Lantern making workshops (Town Hall)
Families are invited to attend hosted workshops to create a lovely blue paper lantern with electric candles for the evening lantern procession. This is a paid event with early bird tickets at £5.00 rising to £6.50.
St Andrews Day Festival Market (Madras Lawn, South Street)
This event includes a chance to meet Santa Claus, food trucks from all over Fife, and Christmas-themed activities and crafts run by student groups at St Andrews University. This event is all about community engagement. The venue for this event will be in the Madras lawn on South Street.

Outdoor Ceilidh (Westport, South Street)
This event has proven extremely popular in previous years and we will continue to collaborate with the Students Association and the Fellowship of St Andrews and will take place on South Street.
Lantern Procession to outdoor fire display (Westport, South Street to Harbour)
A procession to the ceilidh has been held in the past and we feel this is tradition to keep alive. We will alter this slightly so the procession makes its way from South Street to the Harbour after the ceilidh.
The procession will contain music – a local pipe band-, battery powered lanterns that attendees will have made in our lantern workshops during the day. This parade is in celebration of St Andrew's Day. It will begin from the Westport where we will be hosting a street ceilidh and will culminate athe Harbour.
The Story of St Andrews - Fire Show – with PyroCeltica (The Harbour)
A theatrical enactment of the story of the bones of St Andrew coming to St This firework show will be held in collaboration with PyroCeltica specifically designed to keep within the theme of the story of St Andrews and raise awareness of our national saint's origins. It will be Andrews.
Fireworks display – with 21CC (The Harbour)
The day will end in a grand finale involving a fireworks display at the Harbour.
Receive special offers, exclusive members only competitions, and more.
Sign Up
Log In