Panic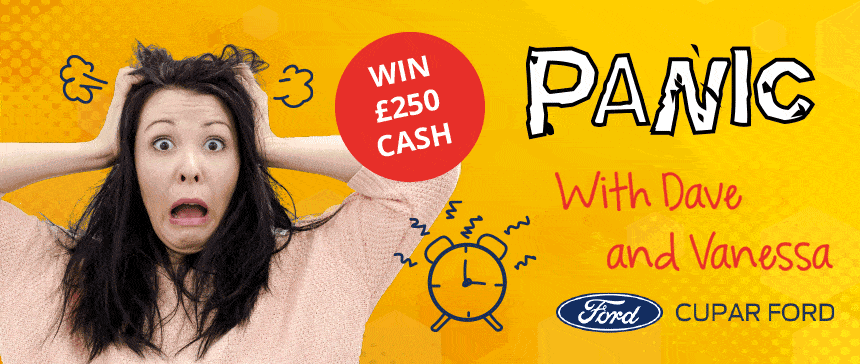 Can you think fast under pressure?
Can you stay calm when time is against you?
Can you take away £250 cold, hard cash... ?
Play Panic with Dave and Vanessa every weekday at 8.10 and 9.35...
Can you name an animal that starts with letter C? What about a vegetable?.... and a type of car? But can you do it under pressure?
Whatever you do….

Register now to play panic with Dave and Vanessa in the morning and you could win £250 cash with Cupar Ford Centre.
Each morning Dave and Vanessa will give two listeners the chance to play. They will give you a letter then start the clock. You will have 20 seconds to name something beginning with that letter as they name random subjects such as an animal or maybe a city.
At the end of the week the person with the highest score will win £250 cash.

Cupar Ford Centre
• 0% APR finance across the entire Ford Range.
• Test drive the all New Kuga, including the Plug-in Hybrid.
• Fantastic range of low mileage used cars.
• 15% discount on all service & repairs to NHS staff
• Test drive the award-winning Puma Mild Hybrid
Showrooms are NOW OPEN providing a safe and secure environment for all staff and customers. You can still order and arrange delivery of any new or used car online.
Contact us at Cuparford.co.uk.
Terms and Conditions: In the event of a tie the winner will be decided by way of a draw. You must be over 18 to enter You must have a postcode starting with KY to enter