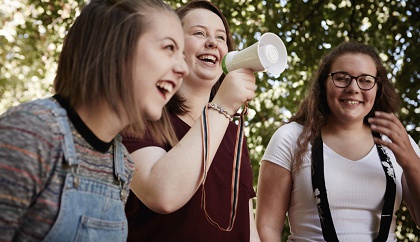 Young girls are calling for an end to gender inequalities
Scottish girls as young as eight say they are being objectified and 'stared at' by men.
That is according to a study by a charity showing how gender inequalities are affecting younger children.
More than three quarters (77%) of girls aged seven to 25 have told Girlguiding Scotland that they are treated differently because they are female.
In addition, 15% said they feel unhappy 'most of the time', with only 19% of respondants aged between 18 and 25 described themselves as 'very happy.
While nine in ten said they want to learn more about inspirational women in school.
Hannah Brisbane, Girlguiding Scotland's lead volunteer for voice, said: "As our new research shows, gender inequality casts a long shadow over girls' everyday lives and their views of the future.
"As the leading charity for girls and young women in the country, we want to create a future where girls know the only limit on what they can achieve is their imagination and a present where girls can feel safe and happy in their everyday lives.
"We hope this research will play an important role in highlighting the issues girls are up against and how we can all play a part in making Scotland the best possible place to be a girl."