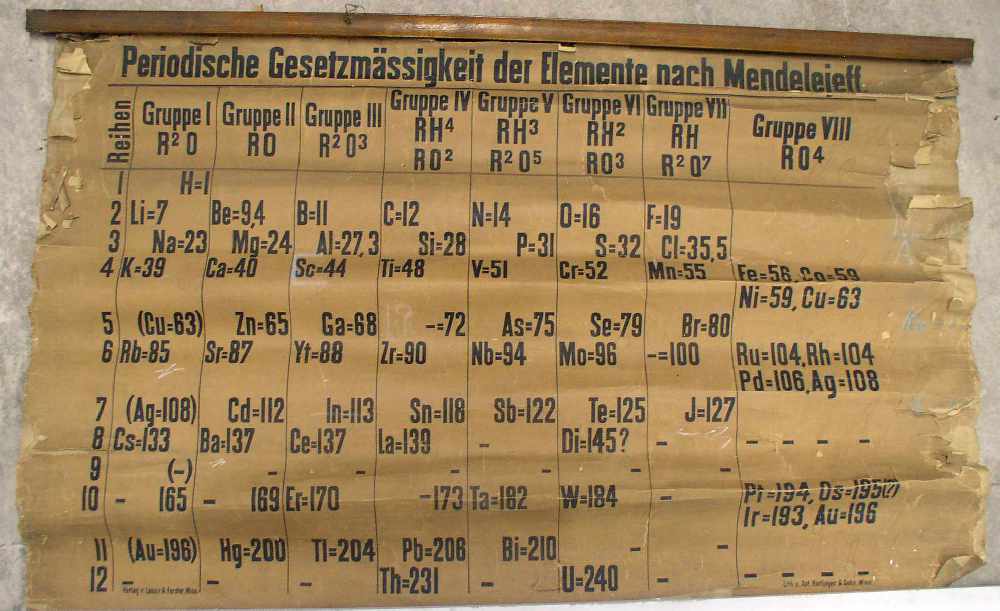 A periodic table chart discovered at the University of St Andrews is thought to be the oldest in the world.
The chart of elements, dating from 1885, was discovered in the University's School of Chemistry in 2014 by Dr Alan Aitken during a clear out.
The storage area was full of chemicals, equipment and laboratory paraphernalia that had accumulated since the opening of the chemistry department at its current location in 1968.
Within the collection was a large, extremely fragile periodic table that flaked upon handling.
Suggestions that the discovery may be the earliest surviving example of a classroom periodic table in the world meant the document required urgent attention to be authenticated, repaired and restored.
The University's Special Collections was awarded a funding grant from the National Manuscripts Conservation Trust (NMCT) for the conservation of the chart in collaboration with private conservator Richard Hawkes (Artworks Conservation).
The funding also allowed production of a full-size facsimile which is now on display in the School of Chemistry.
The original periodic table has been rehoused in conservation grade material and is stored in Special Collections' climate-controlled stores in the University.
Professor David O'Hagan, recent ex-Head of Chemistry at the University of St Andrews, said:
"The discovery of the world's oldest classroom periodic table at the University of St Andrews is remarkable.
"The table will be available for research and display at the University and we have a number of events planned in 2019, which has been designated international year of the periodic table by the United Nations, to coincide with the 150th anniversary of the table's creation by Dmitri Mendeleev."
Gabriel Sewell, Head of Special Collections, University of St Andrews, added: "We are delighted that we now know when the oldest known periodic table chart came to St Andrews to be used in teaching. Thanks to the generosity of the National Manuscripts Conservation Trust, the table has been preserved for current and future generations to enjoy and we look forward to making it accessible to all."