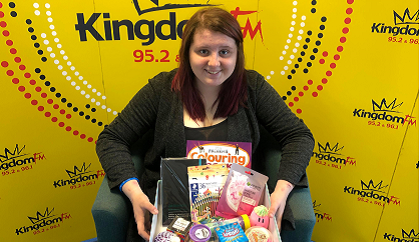 Staff at the Thomas Cook store in Glenrothes posted a heartfelt message on the shop window
This World Mental Health Day, Kingdom FM News has spoken to a teenager from Glenrothes who is hoping to transform the lives of others who are struggling across Fife. 
Neve Stewart was first admitted to hospital after seeking help from her teacher in 2017 and was diagnosed with bipolar disorder and autism.
The 19-year-old was eventually discharged in March and has since dedicated her free time to creating Mental Health Distraction Boxes for those who are struggling and aren't receiving medical care.
Neve, who is a student at Fife College, was first given a box while she was receiving treatment in hospital and is keen to ensure they are available to everyone who is struggling with their mental health, regardless if they need medical help.
She told Kingdom FM News why she chose to help those in need:
The boxes have a number of sensory items, colouring books and pencils, a journal and a soothing face mask to help distract people from negative thoughts.
Neve has already donated a few boxes to her friends, while Glenrothes High School and the young people's mental health unit in Dundee will also receive some kits.
However, with each box costing between £20-25 to make, Neve has launched an appeal for donations in a bid to scheme running.
"My dream is to make these all the time and give them to people, but I need the support," she said.
"People can donate, whether that be money or items.
"If you have feedback or advice about the boxes or if you know someone who might benefit from one, just get in contact".
You can support Neve's campaign here: https://bit.ly/2M5oveg
World Mental Health Day is held on 10 October each year. It encourages people to break the stigma and open up the conversation about mental health conditions.
There are a number of support services available in Fife, including Samaritans (tel: 116 123), NHS 24 (tel: 111) and Breathing Space (tel: 0800 83 85 87).