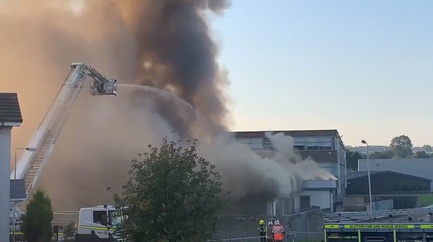 A fire at Dunfermline's Woodmill High School has already incurred costs of more than £800,000, according to a Kingdom FM News investigation.
The school closed in August when parts of it were badly damaged in the blaze, meaning pupils and staff had to be relocated.
A freedom of information request to Fife Council has unveiled the financial implications of the incident, so far.
In its response, the local authority told us: "The insurance claim will include damage to the building, contents and the additional expenses incurred as a result of recovery arrangements such as alternative accommodation, additional pupil transport and staff costs.
"The sections of building destroyed by the fire won't be reinstated and temporary buildings will be installed on the Woodmill HS site instead.
"Once a figure has been agreed, the council will receive an indemnity settlement from insurers in respect of the destroyed sections of the building. The interim arrangements between September and Christmas are estimated to cost approximately £830,000.
"A policy excess of £250,000, payable by the council applies to the claim. In recognition of the expense and anticipation of the council's outlays, Insurers made an interim claim payment of £750,000.
"Further interim payments will be made as work progresses and outlays are incurred. As at December 31, the council's outlays were less than £1 million. Once the Council's outlays exceed £1m, evidence of incurred outlays will be provided to insurers and a further interim payment will be sought from insurers."
The council also revealed that security costs alone at the site, between the fire taking place and December 29, were nearly £60,000.
Meanwhile, more details have been revealed about the timescales of pupils returning to Woodmill.
This month, some youngsters were able to go back to Woodmill for the first time since the fire.
The next phase in April will see 18 temporary, "modular" classrooms installed on the site, in two storeys.
A further 14 will be added in June, while by August, it is hoped that temporary accommodation for the department of additional support - along with catering and dining facilities - will be in place.