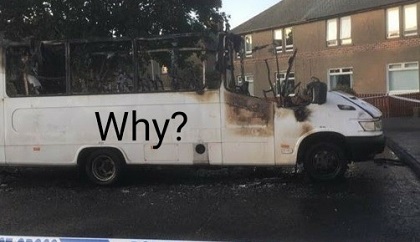 The minibus was found engulfed in flames early on Saturday morning (Pic: Alex Milne/Crowdfunding)
A bus which is used to take disabled children to school in Fife has been destroyed in a fire.
The vehicle, owned by Leven-based social enterprise group MyBus, was found engulfed in flames at 5:30am on September 7 while it was parked on Herriot Crescent in Methil.
It is understood police're investigating what's happened, however it is thought the fire was deliberate.
Director of MyBus, May Parry, said: "All I can say is why- why would anyone do it?
"When I was there on Sunday looking at the bus, someone came along and said: "Why would somebody do that when they know what the bus does?"
"People actually know what we do, so why would they target that bus?
"I mean, it's destroyed," she added. "I don't know what to say."
The bus was specially kitted out with additional equipment to support people with disabilities travel safely.
It is thought it could cost at least £11,000 to replace.
"It needs to have seats that come out and needs to have a working tail-lift," Mary explained.
The bus is also used by groups who aim to tackle social isolation, servicing people from their early 30s to late 90s.
With the MyBus fleet operating at a reduced service, excursions for these groups have been cancelled as they do not have the facilities to take them to and from gatherings.
A crowdfunding page has been set up to help fund a new service- you can donate here: https://bit.ly/2kbVPFA