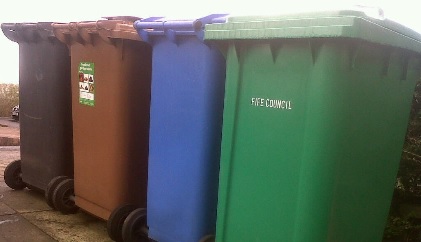 Wheelie bins are being used to slow down motorists speeding through a rural Fife village.
Dairsie on the A91 has a 30mile limit but local police are introducing a new way to slow cars down.
The scheme's already been successful in the Scottish Borders, and Stirlingshire as well as England and Wales.
Safety Camera Manager, Inspector Vinnie Fisher, said:
"We regularly deploy our camera van on the A91 but unfortunately we can't be there 24/7.
"The poster initiative will provide a visual reminder to drivers on refuse collection days of the dangers and likely outcomes of excessive speed.
"It is a novel approach which, as well as the positive comment from our other trials in the Scottish Borders and Stirlingshire, has previously had success in England and Wales. The local community council are fully supportive, as is Fife Council who have responsibility for the road.
"We will have a team of camera unit staff and local community constable Kevin Adam fixing the posters to residents' wheelie bins on Friday and we will evaluate it later in the year based on known speed profiles.
"We are hopeful of success, at which point we will consider extending it to other areas."