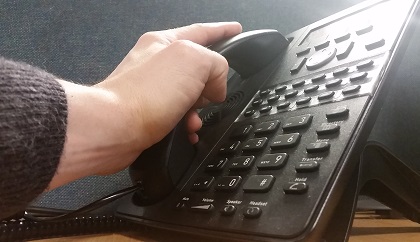 Phone scammers often claim to be from HMRC
Scammers have attempted to trick a woman into handing over hundreds of pounds by pretending to be from HMRC.
Eileen Stone, from Kirkcaldy, received a phone call Tuesday 8th January by a man claiming she had not paid tax.
Speaking to Kingdom FM News, she said: "He said there was a warrant out for my arrest, for non payment of tax.
"It reached back to 1977, which would just put me in the bracket of paying tax.
"He claimed that I owed £725, when I said no, he threatened to take me to court."
The original call came from a Manchester area code, but when she was 'put through to a supervisor' after she refused to part with any cash she received a call back from a 13-digit number with an unrecognisable area code.
Officers from Kirkcaldy police station confirmed that they received a report from a woman in relation to a scam phone call and have 'provided her with advice'.
HMRC frequently emerges as the subject of fraudulent attempts to extort money from people.
Speaking during scams awareness month, Treasury Minister Mel Stride MP, the Financial Secretary to the Treasury, said: "We know that HMRC is the most spoofed government brand as criminals try to take advantage of the fact that everyone has some involvement with the tax authority.
"t is a testament to the hard work of HMRC that they have prevented criminals extracting £2.4m from the public.
"The public should go direct to gov.uk to obtain genuine HMRC contact numbers.
"These will not be premium rate numbers.
"People should be alert for sponsored adverts, websites charging for government services which would be expected to be free and those with disclaimers denying association with HMRC or government."