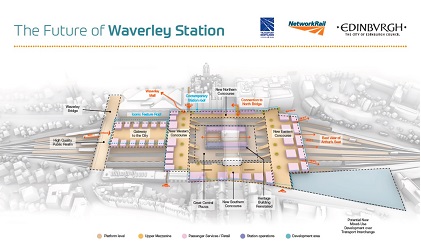 Passenger numbers are expected to double to over 49 million in 30 years, so changes are needed at Edinburgh's Waverley Station.
Requirements include boosting passenger space to avoid crowding and congestion, improving accessibility from the Old Town, Waverley Bridge and Princes Street whilst also seeking to deliver a modern, vibrant station for passengers, Edinburgh and Scotland.
Early work has now been completed and views are being sought from the public on a preferred strategy. This public engagement phase of the masterplan will run from Monday 25 March to Friday 26 April. A public exhibition will be located on Waverley Station concourse for the duration, with the exception of 1 and 2 April when it will be on display in Haymarket.
Following the completion of the public exhibition, feedback will be considered and incorporated into further development work that will ultimately result in a published Masterplan in September 2019. The plan will present a vision for the future of the station and will be used to explore future development via phased investment over the next 30 years.
Alex Hynes, Managing Director of the ScotRail Alliance, which includes Network Rail Scotland, said: "Waverley has seen its footfall more than double from 10 million to over 24 million within the last ten years and the latest estimates suggest that it will more than double again, to 49 million, by 2048. Such a steep increase is a positive indicator of the railway's economic influence on the city and Scotland but also a clear sign that further investment will be required.
"We are creating additional rail provision within Waverley at present and will continue to seek new ways to create the best railway that Scotland has ever had. However, more trains mean more people and that inevitably adds to the pressure on station infrastructure and the surrounding streets.
"The work of the masterplan team to date suggests that some ambitious improvements to the layout of the station will be required to enable Waverley to meet the future needs of the station, the city and the country. Before a completed Waverley Masterplan is published, we are keen to listen to the views of our customers and stakeholders. With passenger numbers continuing to grow, 'doing nothing' is not an option."