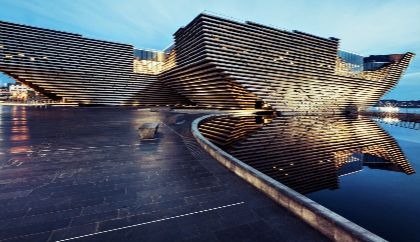 The new V&A in Dundee opens to the public tomorrow.
The museum is expected to attract over 500,000 visitors in its first year.
The £80m project hosts the Scottish Design Galleries collection and a restored version of Miss Cranston's Ingram Street tearoom designed by Charles Rennie Mackintosh.
Fife MP Stephen Gethins says the benefits will be felt on both sides of the Tay:
"Come and visit the V&A yes, but if you come and visit the V&A remember all of the stuff that you can come and see just on the other side of the bridge and I think this will be a big boost for business in Fife as well.
"I'd love to see the V&A telling a story about what's going on just over the water.
"I think that we need to have some initiatives to show off Fife a little bit and what's going on here.
"There's a lot of good work going on with Visit Scotland, the V&A, Fife Council and Dundee City Council as well.
"I've already spoken to a number of businesses who are really excited about the opening of the V&A and what that means for business in Fife.
"I know that businesses are already being innovative about how they can tempt people across the bridge - the short distance across the bridge - to come and see us in Fife."