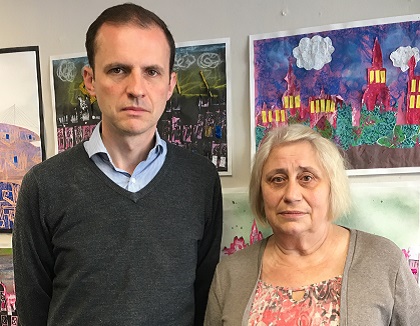 An elderly Ukranian widow says she lives in constant fear that she will be deported back to her homeland. 
Valentyna Yakovleva moved to Scotland on a visitors visa in 2010.
However, in 2017 she was arrested on the spot and forced to spend two weeks in Dungavel Immigration Removal Centre, after being branded an "overstayer."
The 69-year-old's application for Indefinite Leave to Remain on compassionate grounds was rejected in 2011.
She tried again in 2014 under the 10 Year Family and Private Life route, but was again refused with no right of appeal.
Valentyna's family has appealed to MP Stephen Gethins for help in a final attempt to stay in the country.
He said: "It was bad enough that she was taken to Dungavel in 2017 and incarcerated, but to live in fear that they will come again and get her at any hour of the day or night is absolutely horrendous.
"I'm incredibly concerned that the Home Office is putting in so much effort to have this lady removed.
"Valentyna has contributed so much to the local community in Fife, bringing up her two young granddaughters and helping out her family.
"I want to see common sense prevail in this case.
"This is a grandmother, a mother, who has contributed so much, who is loved by her family, wants to stay and should be able to stay in her home."
A spokesperson for the Home Office says Valentyna's application to stay in the UK was refused as it did not meet the requirement of immigration rules.
Speaking to Kingdom FM News through her son-in-law Andrij as translater, Valentyna said: