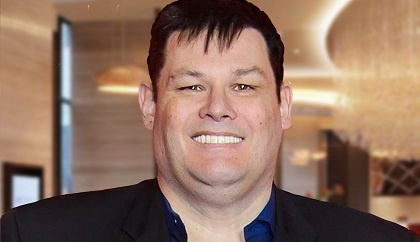 Mark Labbett is known as 'The Beast' from The Chase on STV
A TV star is to guest host of an online quiz as part of Fife College's Fresher's Festival.
Mark Labbett, also known as 'The Beast' from The Chase on STV, will be in charge of the event, which is happening next Thursday.
Groups of new college students will go head-to-head in a test of their general knowledge.
The quiz is one of many events being run by the college's Students' Association.
Also happening in the festival is Vanessa Motion from Kingdom FM Breakfast playing a live set, which can be watched on live stream.
Other events include a physically distanced screening of Back to the Future, with students encouraged to attend in fancy dress.
A live-streamed book event with authors Claire Askew and Neil Broadfoot is also happening.
The events have been organised to allow students not to miss out on the student experience while at the same time observing health and safety guidelines amid the coronavirus pandemic.
Mark Labbett is pleased the quiz is taking place, although online given the current Covid-19 crisis.
He said: "I'm really looking forward to hosting this quiz for Fife College and getting to virtually meet some of their students.
"The current circumstances have led to a lot of changes, so it's great that we're able to put on an event like this as part of their Freshers' Festival.
"I hope that everyone taking part is ready for some tough questions – I won't be going easy but I'm sure they'll be up for the challenge."
Sarah Ferguson, President of Fife College Students' Association, is looking forward to Mark being part of the online quiz event next week: