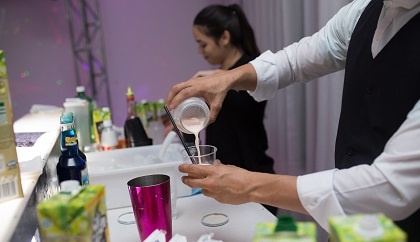 Some employers have been taking tips from hospitality workers
A Scottish campaign calling for better conditions for low-paid workers is welcoming plans to force restaurants to hand all tips to their staff.
Some high street chains have been accused of taking a cut of tips, including Ask (8%), Belgo (10%), Bella Italia (10%), Café Rouge (10%), Giraffe (10%), Prezzo (10%), Strada (10%) and Zizzi (8%).
Prime Minister Theresa May said: "The unemployment rate under this government is now the lowest since the 1970s – but we want to ensure that everyone is treated fairly in the workplace.
"That's why we will introduce tough new legislation to ensure that workers get to keep all of their tips – banning employers from making any deductions.
"It's another way we are building an economy that works for everyone."
The 'Better Than Zero' campaign, run by Unite in Scotland, say hospitality workers should 'take strength' from the promise.
Fay Graham, Chair of Unite's Hospitality branch, said: "Like thousands of workers in hotels and restaurants across Scotland, we have been fighting as members of Untie for total transparency on the tips customers leave to low paid staff.
"Too often, companies take advantage of tips to bolster their own profits at the expense of minimum wage staff who are often also on zero hours contracts.
"Workers' campaigns against prestigious companies like the Grand Central Hotel, as well as familiar chains like TGI Fridays, have shamed the Tory Government into action.
"We will continue to build unions to improve the pay and conditions of the most precarious workers in Scotland."