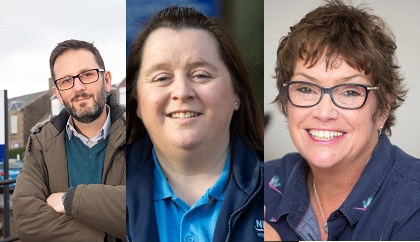 Gerry Hastie, Lyndsey Forsyth and Pauline Buchanan have been named as Queen's Nurses
One of the highest accolades for nurses in Scotland has been handed to three medical professionals from Fife.
The Queens Nursing Award is given to around 20 Scots every year, who are dedicated to serving their communities.
Gerry Hastie is a Community Mental Health Nurse, Lyndsey Forsyth is an Attention Deficit Hyperactivity Disorder (ADHD) Nurse Specialist and Pauline Buchanan is a Community Dermatology Nurse Practitioner working across Fife.
All three were nominated for providing high quality, compassionate care to people in their community.
They were rewarded at a ceremony in Edinburgh on Thursday night.
Pauline said: "My driving force has always been what is best for the patients.
"I have a passion for improving the care for patients living with uncomfortable and often painful skin conditions.
"I aim to bring back quality to their lives by educating them to manage their own condition."
Lyndsey said: "It is a real joy to see how well young people can do with the right support.
"A key part of my role is to help change people's attitudes and perceptions of ADHD.
"A mum once said to me "when you find the thing they love, they will just fly".
"I try to get the message across that children and young people will flourish with the right care and guidance."
Gerry said: "Being a nurse in the community helps me understand how the lived experience of an individual impacts on their health and ability to adapt - be it relationships, poverty, isolation or accessibility of resources or a combination of these factors.
"Nursing sees beyond the 'diagnosis' and interfaces with the very present and real circumstances of a person's life."