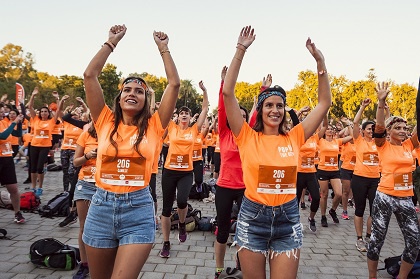 St Andrew's is hosting the UK's first ever "Pop In" event, which aims to encourage women to explore towns and cities across Europe.
Around 500 women will be taking part in over 30 challenges from 9am until 5pm.
The challenges are designed to showcase the best services St Andrews has to offer.
The University of St Andrews is a stakeholder and sponsor of the event.
Clémentine Charles, co-founder of Pop In the City, said: "We are very excited to work on a Scottish Pop In in the beautiful city of St Andrews and create challenges together with locals in order to highlight its charm and history.
"Since we announced St Andrews as the destination, we have received lots of positive feedback from Popins who are looking forward to doing a Pop In the City in the UK and are thrilled to come to Scotland."
Jane Kennedy, from BID St Andrews, hopes the event will help put the town on the map: