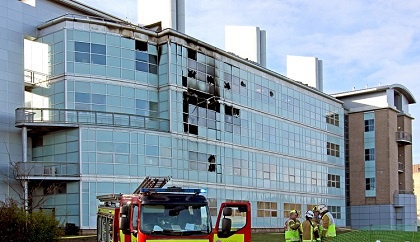 A fire ripped through the university's North Haugh campus in February (Pic: University of St Andrews news)
Temporary labs are to be installed at St Andrews University, after a fire tore down one of the world's leading research facilities there.
The third and fourth floors of the biomedical sciences building at its North Haugh campus were destroyed in February.
Professor Tom Brown, Dean of Science at the University said: "The fire at the Biomedical Sciences (BMS) building was devastating to not only the researchers, students and staff here in St Andrews, but was also felt across the whole scientific community."
"The construction of the temporary lab facilities ensures that the ground-breaking research carried out within BMS continues and lets the world know that we are open for business, delivering results of real global significance."
The temporary labs will provide a place for important research to continue into the way viruses are treated.
It's thought the project will cost around £9 million.