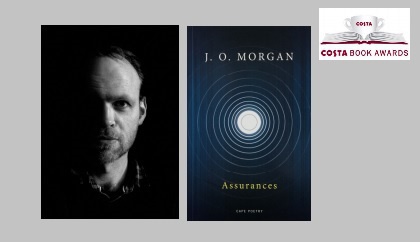 J.O. Morgan won the poetry category
A Scottish poet who was named a Costa Book Award champion for 2019 says his win is a homage to those affected by the Cold War.
J.O. Morgan, who is originally from Edinburgh but lives in the Scottish Borders, wrote his book-length poem 'Assurances' after being inspired by his father, who served in the RAF.
It is a response to his father's 'tremendous responsibility', eavesdropping on the thoughts of those trying to understand and justify their roles in keeping peace by threatening war.
It won the Costa Poetry Award for 2018, after being picked out of 650 entries.
the category was judged by poet Mimi Khalvati, Foyles bookshop's poetry buyer James Munroe, and Sameer Rahim from Prospect magazine.
They said: "We were all gripped by this polyphonic book-length poem and dazzled by its originality and inventiveness."
Mr Morgan gave Kingdom FM News a sample of his work: