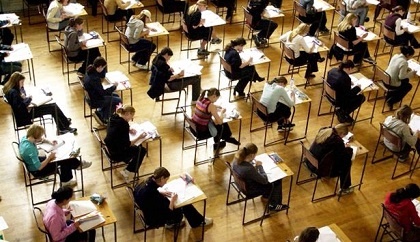 Young people can now study for a qualification in mental health
Children at Scottish schools are being given the chance to sit an exam on mental health from next year.
The National 4 and National 5 qualifications are being offered by the SQA, and will include modules on how people cope with mental health problems, and what influences them.
During the last three months of 2017, 674 children were referred to NHS Fife for child and adolescent mental health services (CAMHS).
Elaine McFadyen, Qualifications Manager at SQA, said: "We opened up a survey to try and gauge what content the award should cover.
"We received over 1,700 responses, almost a thousand of which were from young people aged under 18.
"Many of the submissions came from young people who had experienced mental health issues themselves, or knew of friends and family who had similar experiences.
"The feedback we received often said the qualification would be a good way of informing others at school – both teachers and pupils – about the challenges people with mental health problems face.
"Another submission, from a serving police officer, recognised the potential in the award as a way to increase police officers' understanding of mental health issues.
"The views that we received were incredibly valuable, and confirmed to us that the demand for the award was sufficient to take it forward and that it would be well received.
"Combining that insight, with the expertise of organisations such as The Good Shepherd Centre and the NHS has put us in a strong position to offer a qualification that will be valuable and well regarded."
Jo Anderson, Director of External Affairs at Scottish mental health charity SAMH, said: "We're extremely proud to have been the charity partner of SQA over the last year and welcome their work on mental health.
"In particular this new award which young people have helped to shape in content and design, helping us to better understand what can influence our mental health and wellbeing and most importantly how to start our mental health conversation."