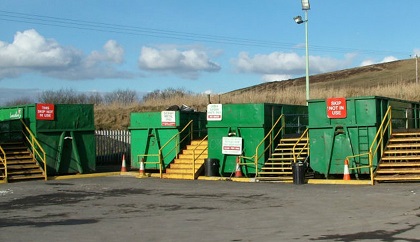 Five recycling centres across Fife will re-open at the start of next week, around two months after they had to close amid the coronavirus pandemic.
Facilities at Dunfermline (Lochead), Glenrothes, Kirkcaldy, Lochgelly St Andrews will be available to use seven days a week.
But there will be booking slots between 9:10am and 5:30pm on Fife Council's website, with the local authority saying a full service can't be offered as soon as those centres re-open.
It's anticipated demand for services will be high, with space for only around 7,000 people across those five facilities in the first week of them being open again.
The only waste which will be accepted at the sites are landfill, green garden waste, paper and cardboard and cans and plastics.
The council wants to minimise the pressure of increased household waste, keep people safe and allow more people to use those facilities in the first days after re-opening takes place.
Anyone who isn't feeling well is being advised not to visit a recycling centre.
Fife Resource Solutions runs recycling centres on behalf of the local authority and the firm's Chief Operating Officer Robin Baird said: "We know that this is an extremely difficult time for many people.
"Our top priority is to make sure both local people and our staff are kept safe, which is why stringent health and safety requirements, including sanitisation, social distancing and traffic management are now in place across our recycling centres that are re-opening.

"Recycling centre visits must be booked, or you will not be allowed access.
"We know that initial demand will be high, so please only book a visit to any recycling centre if you have waste that poses a health or fire risk and cannot safely be stored at home."
Councillor Ross Vettraino, who is the council's Convenor of the Environment and Protective Services Committee said: "The council would like to thank residents for continuing to recycle over this difficult period.
"With fortnightly emptyting of food and garden waste bins (the brown bin) resuming from 1 June, the council is picking up all kerbside bins as usual.
"There will be a high demand for recycling centres when they re-open, so please continue to use your household bins for as much recycling and waste as much as possible.
"Bin capacity can be greatly increased if cans, bottles and cardboard containers are flattened, before being put in the bins.
"Please also use Fife's network of smaller recycling points where possible."