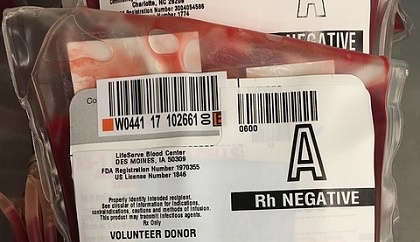 Thousands of NHS patients were given contaminated blood
Questions are being asked about why the Scottish Government is not playing a role in a UK-wide investigation into contaminated blood.
The hearings in London are examining how thousands of people were infected with diseases such as HIV and hepatitis from blood transfusions during the 1970s and 80s.
The Scottish government says it is in talks with the Cabinet Office.
Aiden O'Neill QC is representing more than 250 individual Scots and two Scottish charities at the inquiry.
Dan Farthing-Sykes, CEO of Haemophilia Scotland, said: "We will judge the success or failure of the Infected Blood Inquiry by the difference it makes to the lives of those infected and affected by the contaminated blood disaster.
"The Scottish Inquiry under Lord Penrose established many interesting facts about how these infections happened by utterly failed to provide any accountability or constructive analysis.
"His only recommendation was to repeat the recommendation made by the Expert Panel under Lord Ross made 12 years earlier.
"We are cautiously optimistic that the Infected Blood Inquiry will go much further than the Penrose Inquiry.
"It is looking at a longer period of time, a wider range of infections, and will critically investigate whether there has been a cover-up.
"I'm encouraged that the Infected Blood Inquiry has started by hearing from those affected in Scotland and has given us this opportunity to make the first opening statement.
"Aiden O'Neill QC made it very clear that we look to this Inquiry to make sure the decades of pain and suffering endured by our community lead to lessons being learnt.
"As well as all those affected being getting the acknowledgement, respect, and support they deserve, we think this Inquiry has the potential to make recommendations which will make being treated by the NHS safer for everyone."