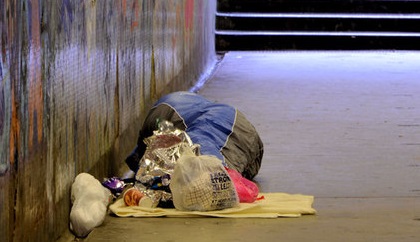 More than 34,000 homeless applications were made last year, according to Scottish Government figures.
New figures also show there's a 9% rise in the number of children living in temporary accommodation.
Graeme Brown, Director of Shelter Scotland, said:
"These statistics are shocking and should start alarm bells ringing in Holyrood that homelessness in Scotland is getting worse not better.
"Every 18 minutes a household was made homeless in Scotland last year with 34,972 homelessness applications – more than last year.
"For the fourth year in a row the number of homeless children living in temporary accommodation has risen – up 9% to 6,615. And people are having to stay longer in temporary accommodation with their lives in limbo."
Graeme Brown added:
"This is clear evidence that the good progress we have seen in recent years is now being reversed and bad housing and homelessness is blighting the lives of even more people in Scotland – robbing them of their health, security and a fair chance in life.
"We welcome the focus on homelessness in the last year from the Scottish Government but it is now time for urgent action from all areas of local and national government to work together better to tackle and prevent homelessness in Scotland. We need urgent action and resources now to start making a difference to all those facing or suffering homelessness."
Commenting on the publication of the latest homelessness and housing options statistics, Housing Minister Kevin Stewart said:
"Everyone deserves a safe and warm place to call home which is why we are committed to ending homelessness and rough sleeping for good. While the long-term trend shows a decrease in the number of homeless applications – a reduction of 39% between 2008/9 and 2017/18 – these figures are a reminder of why preventing homelessness and transforming temporary accommodation will remain a key priority for government.
"We want time spent in unsuitable temporary accommodation to be as short as possible, especially for households with children or where there is a pregnancy. This is why we introduced a cap of one week for families and pregnant women living in B&B accommodation. We also need temporary accommodation to be of a high standard, with good support, for everyone.
"Last year we formed a Homelessness and Rough Sleeping Action Group to tackle this issue, as well as homelessness and rough sleeping more widely. The group recently set out a number of recommendations on how we can transform the use of temporary accommodation and we will be bringing forwards a programme of work to implement these recommendations, backed up by the £50 million Ending Homelessness Together Fund, to drive change and improvement.
"In addition to this we are committed to delivering more affordable homes across the country, providing the high-quality, efficient and cost-effective homes everyone deserves. Since 2007 we have delivered more than 76,500 affordable homes and are on track to reach our target of at least 50,000 affordable homes over the course of this Parliament. Our ambitious target is backed by over £3 billion investment – the single biggest investment in, and delivery of, affordable housing since devolution."