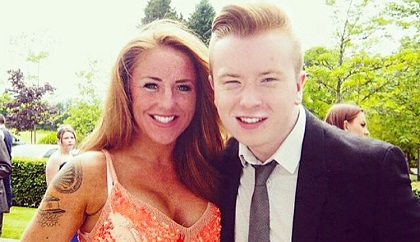 Jenn Barnes with her brother Calum
People, businesses and public bodies in Scotland are being urged to focus this year on having more conversations about mental health.
Figures from one Scottish charity show only a quarter of people would speak out if they were struggling, while only 40% would raise concerns about their mental health with their boss.
Only one third of Scots surveyed by See Me say they would tell someone if they had a diagnosed mental health condition.
Jenn Barnes, 31, lost her brother Calum to suicide in 2017, and has struggled with her own mental health problems.
She said: "I've had personal experience of struggling with my mental health for a number of different reasons and there are times where I feel like I'm not coping well with life.
"I kept everything bottled up for so long that I was at breaking point.
"I didn't want to be here and thought life would be better off without me in it.
"It ended up with me having an episode in a shop where I broke down on the floor in tears.
"I was then taken to hospital. I told my mum and dad what I had been feeling and they got my friends involved.
"If I hadn't spoken to them I might not be here today, things were really bad.
"On the outside I was happy go lucky, but I don't think anyone knew how I was feeling.
"After I was in hospital I had two close friends that I confided in.
"They probably had no idea what to do.
"But they just asked how I was and listened.
"Once I started to talk about how I was feeling, it was like a flood of everything that poured out.
"They were really good at listening and that's what I needed."