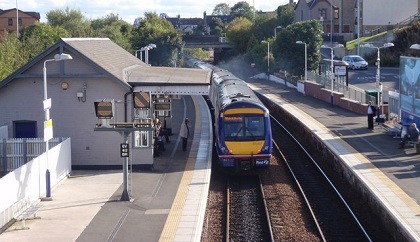 Scotrail is being urged to provide a service to Fifers that we can all be proud of.
Dunfermline and West Fife MP Douglas Chapman is recognising the problems the rail operator has had over the past year.
But he says those should be put behind them and they should now focus on introducing new trains to Fife's rails.
Mr Chapman said: "Scotrail has faced the perfect storm of challenges over the past year which has impacted negatively on customer service and in Fife we have borne the brunt of delays, cancellations and poor service.
"As a former rail commuter, standing on a cold platform in middle of winter and seeing your train home being delayed or cancelled, I can empathise with the frustration too many of my constituents have had to endure over the past period.
"While Scotrail run a no-quibble compensation scheme for late running services, most passengers just want their train to run on time and allow them to get to their destination safe and sound.
"While they have had a torrid time, I want to focus on the light at the end of the tunnel and get the Fife Circle service straightened out once and for all.
"During my discussions today it was made clear to Scotrail that they should be pushing on with releasing diesel trains from other parts of the country as the new electric trains come on stream.
"There are also the refurbished and spacious intercity class trains which are being introduced and again they could be used to enhance the service through Fife at East Coast mainline stations such as Inverkeithing, Cupar, Kirkcaldy and Markinch.
"There is a £2bn rail investment being made in Scotland and its time we saw some of the direct benefits in Fife.
"It's clear that in Fife Scotrail are no where near what would be an acceptable level of service, but there are signs of improvement and station skipping, for example, is down some 80% since last April.
"Closer working between Scotrail and Network Rail may also alleviate some of the "hotspot" problem areas on the network, which if they can get that relationship right, will mean fewer delays and cancelled services.
"Whether as occasional passenger or everyday commuter, we all want to get to the stage where we're proud of our rail service in Scotland.
"I'll work with anyone across the political parties to ensure that we encourage and push Scotrail to keep focussed on the Fife Circle and help make the passenger experience all that it should be on every journey.
"Following today's meeting I have asked Alex Hynes to report back more regularly on Scotrail's performance to passengers including core information about delays, cancellations, skipped stations, and the number of carriages on Fife services to alleviate over-crowding, but also on how many new trains are being introduced month on month and how much pressure is being put on those responsible for the delivery of the refurbished Intercity trains.
"We all have a vested interest in seeing improvements and that can be done if we focus on some of the things that are holding Scotrail back from delivering on the standards set within their contract."