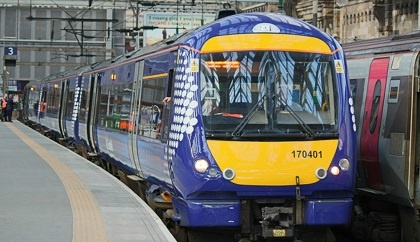 Rail workers bear the brunt of passenger complaints
A union representing train workers is calling for calm following weeks of delays and cancellations on Scotland's railways.
The TSSA union, which has held protests at train station across Scotland this week, is also calling for Scotrail's owners Abelio to be stripped of the licence to run the railways in Scotland.
Its members are dealing with complaints from passengers who have been experiencing cancellations and delays on the trains over the last few months.
They are joining politicians and other unions in calling for the railways in Scotland to be brought back into public ownership.
Passengers have seen overcrowding on some rush hour services, including on the Fife circle.
Scotrail has blamed crew shortages, caused by staff training and industrial action taken by unions over staff being asked to work on their days off.
Liz Warren-Corney is from the TSSA union:
In a message to customers, Alex Hynes, the Managing Director of the ScotRail Alliance, said: "While our teams work hard every day to deliver the service you demand, the reality is that we've fallen below the standard you expect and deserve.
"While it doesn't excuse what has happened...daily services have had to be cancelled to allow our drivers and conductors to be trained on new trains and new routes before they can operate services safely.
"The late delivery of trains by suppliers, including Hitachi and Wabtec, means there has been very limited time available for driver and conductor training.
"An overtime and rest day working ban, now resolved, by the RMT trade union made the training problems worse.
"We are working flat out to train conductors and drivers on Scotland's railway so that we can return services to normal.
"Since 9 December we have trained 70 drivers and conductors, so we have made progress, but we know we need to do more.
"We are training more than 20 drivers and conductors every day throughout January and February to return your service to levels you deserve.
"We have seen the level of cancellations reduce steadily over the last few weeks.
"We will continue to cut cancellations to improve your service.
"We expect week on week improvement through January and February to get your service back to normal levels."