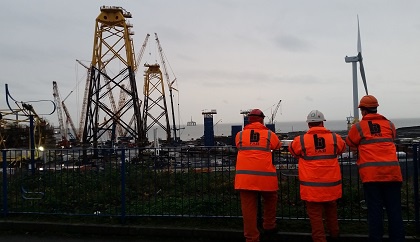 Workers at BiFab are facing redundancy
Scotland could lose its place as a world leader for making renewable energy parts if workers at BiFab lose their jobs.
Around 260 job a're at risk at the Fife firm, which makes parts for turbines.
It is the only remaining Scottish manufacturer working in the renewables sector.
Mark Ruskell MSP, Energy spokesperson for the Scottish Greens, said: "Scottish Enterprise and HIE must step up their engagement to ensure maximum support for the BiFab workforce both in the short-term and long-term.
"It's not in the renewable industry's interests for BiFab to go down, so all angles need to be covered in attempts to safeguard these valuable jobs in Fife, on Lewis and in the wider sector across Scotland.
"If we're to reap the rewards of a low-carbon economy, we must ensure renewables are at the heart of energy policy with a commitment to zero carbon emissions by 2040 to help drive innovation and investment.
"I look forward to all parties and the enterprise agencies coming together to win the battle for BiFab."