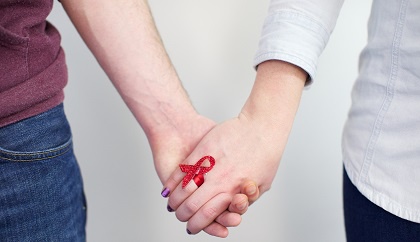 World AIDS day is being marked today
Worldwide targets to halt the spread of HIV have been met in Scotland, according to new figures.
The UN wants 90% of percent of people living with HIV to be diagnosed, to be getting treatment and to have achieved 'viral suppression', meaning the disease is undetectable.
According to Health Protection Scotland, 91% of people who are HIV positive are diagnosed, 98% of them are being treated, and 97% of them have achieved viral suppression.
The figures come on World AIDS Day, which is highlighting the pandemic caused by HIV and remembering those who have died.
Nathan Sparling, the interim chief executive of HIV Scotland, said: "We're incredibly proud that Scotland has met the international targets, showing that our interventions are working to prevent new HIV diagnoses and ensure people living with HIV are able to live long, healthy and happy lives.
"Meeting these targets is due to the collaborative work of our NHS and third sector.
"Whilst we should celebrate Scotland's progress, we must recognise that nearly half of all new infections are being diagnosed late – meaning treatments may be less effective, and there is an increased risk of HIV-related deaths.
"No one should be dying from HIV-related illnesses in Scotland, and we must redouble our efforts to identify HIV infections are the earliest possible stage, through increased testing and a reduction in stigma.
"Stigma remains the main barrier to accessing testing.
"The fear of a HIV diagnoses can mean that many people don't access testing.
"What we know is that when people are diagnosed early, effective treatment works and maintains the virus at such low levels that they can't pass it on.
"Having met these global targets, Scotland should now commit to ensuring zero HIV-related stigma, and zero HIV-related deaths for us to have the real opportunity to end the HIV epidemic across Scotland by 2030."