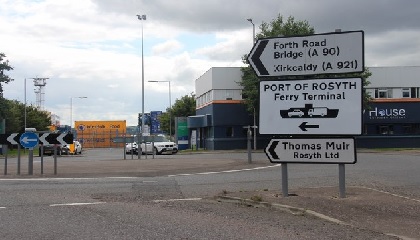 A ferry service from West Fife to Zeebrugge is back on the table after talks on both sides of the North Sea.
The MP for the area, Douglas Chapman, is welcoming the news and warning Brexit poses a 'real problem' for Scottish exporters.
There are concerns there could be long tailbacks out of ports in the South of England after the UK leaves the EU.
Mr Chapman said: "Given that the future for Scottish exports being speedily transported into our one of our main markets, the EU, is now at best uncertain, we have to take matters into our own hands and re-launch the campaign for a ferry service from Rosyth to Zeebrugge.
"Brexit poses a real problem for Scottish exporters as we cannot have good locked down in long tailbacks out of a South of England ports such as Dover.
"As a member of the Public Accounts Committee in Westminster, I heard last week that of the 12 measurement indicators to say everything is in place for a speedy transit of goods post Brexit, only one indicator has a green light.
"In further questioning there was absolutely no re-assurance given that any of the 11 other indicators would be at green by the time the UK leaves at the end of next March.
"Scottish exporters cannot be expected to cope on this "wing and prayer" approach of the UK Government
"In recent months I've met with the Port of Zeebrugge, the Flanders Government, Forth Ports and also have a meeting scheduled with the Scottish Government.
"I am also currently in discussion with a marine freight expert and he is putting together our action plan.
"In response to call for support, I've had a huge response from people all around our country saying that, given Brexit, Scotland should maintain a direct link into the heart of Europe.
"They realise we cannot allow Brexit to kill our European export markets and many more want to sail directly with the family and friends from Scotland to start their holidays in Europe.
"I am delighted with the response from the authorities and from the public and it's time to get our sleeves rolled up and see how far we can take this exciting project which will put West Fife and the whole of Scotland back on the European ferry map."