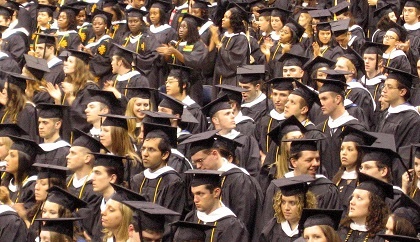 There's been a 12% rise in the number of Scots going to study a full-time first degree course.
Scottish universities have also reported a 10% rise in their overall numbers over the last year.
Holyrood's promising there will never be tuition fees north of the border and said education should be based on an ability to learn not pay.
Further and Higher Education Minister Shirley-Anne Somerville said:
"More people than ever before are coming to study at Scottish universities, including students resident here whose numbers have increased by 3%. It is a clear demonstration of the strength of Scotland's reputation as a fantastic place to live, study, and work.
"In particular, these latest statistics show welcome signs that the study of education and science-based qualifications at university is increasing in popularity among students. It is one of our key priorities to encourage more people to enter these areas of the workforce, so it is good to see more students starting on this career path."