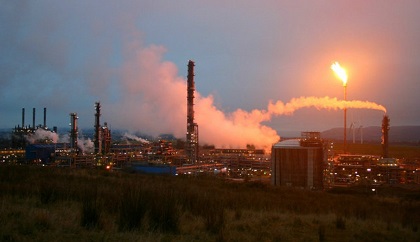 People living near the Mossmorran Ethylene plant are attending a community day this afternoon.
Co-operators Shell say it's to give local residents the chance to see how the plant works.
Bosses have been under pressure recently after persistent unplanned flaring at the site.
The issue was brought up at Holyrood in a Members Debate this week.
MSP for Mid Scotland and Fife, Alex Rowley said it's happening because of a fault:

"Why has this come about?
"It's because everytime there's an episode of unplanned flaring it means something has broken in the plant.
"Flaring is a safety mechanism for when the plant is unable to run and when it is unplanned it means something has gone wrong.
"It is not just the fact that the sky is lit up at night.
"The levels of vibration, the levels of noise, are very frightening for residents.
"I would refer you to the website of the Mossmorran Action Group where you can read a summary from 160 issues reported by local residents.
"To be clear, these are not short episodes of a few hours.
"These events are usually continuous and last for days on end.
"It is simply not acceptable for people to put up with this for this long."
The visit takes place at 13:30 until 16:00.