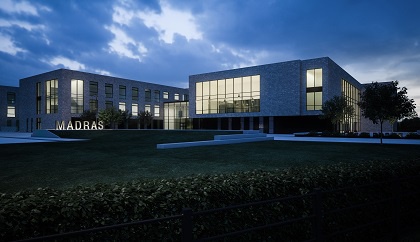 An artist's impression of the new Madras College
A new high school is to be built in Fife.
Madras College, in St Andrews, will be replaced at a cost of £50m. It is hoped that the new school will be completed in time for the 2020-21 session.
However, the new high school may ditch the Madras College name when it opens.
And building the new school is still conditional on buying the land, which is not owned by Fife Council, and could lead to a delay.
Work on an access road to the site is currently ongoing and will need to be completed before work on the school can start in Spring.
The current college is split over two campuses on South Street and Kilrymont Road. The new school would see all years taught under one roof with a capacity of 1450. The grounds would have two new all weather pitches, 172 car parking spaces, 19 coach parking spaces and 112 cycle spaces.
At the north east Fife planning committee, councillors unanimously agreed to approve the new site.
However, many concerns were raised over the design of the building.
Councillor David MacDiarmid, SNP for Howe of Fife and Tay Coast, asked: "Is the design fit for the character given the special place that St Andrews has not only within Fife, but Scotland? I'm not convinced that there is character to the building."
Fife Council planner William Shand noted that it was a case of personal taste, adding: "We wouldn't want to replicate the current school, or replicate the style of the historic core of the town. It also is designed for practicality of 1400 students."
Drop-off point
The school design was created in mind with a view for expansion, with space in the courtyard to build a number of new classrooms.
Councillor Tony Miklinski, Conservative for Cupar, raise a number of concerns over cars dropping off pupils.
He Miklinski said: "We expect around 10 to 15% of pupils to get dropped off. That is around 125 car movements in a 15 minute period. I know we say we don't want to encourage it, but should a drop off point not be provided?"
Richard Simmons, Lead Officer for Transportation Development
Management, told the councillor that there was ample spaces in the neighbouring streets, and they would be fully encouraging more pupils to walk or cycle to school, but added: "It is notoriously difficult to encourage parents to ditch their cars."
St Andrews councillor, Jane-Anne Liston welcomed the application approval.
She said: "This has taken far too long to come about. There has been a real problem with buses going through the town centre and now they will have some semblance of a normal residential life."
The St Andrews Environmental Protection Association Limited (STEPAL) said: "It was with great relief, gratitude and optimism that STEPAL directors heard the decision of by the members of the North East Fife planning committee to proceed with the next stage of the replacement Madras College on the west side of St Andrews.
"A community that has long campaigned for this common goal will be immeasurably strengthened. Our famous university will take over stewardship of the much-loved 1833 original Madras College in South Street. A great day for education."
Reporting by Emma O'Neill, Local Democracy Reporter