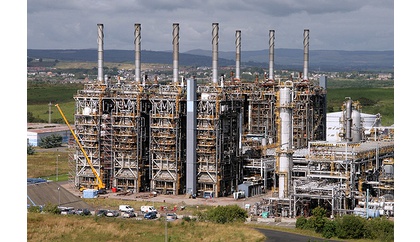 © Walter Baxter
Bilfinger UK has launched a consultation with around 170 of its employees, including those based at Mossmorran, who are at risk of being made redundant.
The Courier reports the affected staff, who are currently on the UK Government's coronavirus furlough scheme, got a letter from the company saying their 'position is potentially at risk of redundancy'.
It's because of the cancellation of work across the 'vast majority' of the firm's sites.
GMB Scotland says it's clear there is no 'coherent plan' for the future of the oil and gas sector.
The trade union claims there's a 'domino effect' on supply chains.
A spokesperson for Bilfinger UK said: "Many business operating in the UK's oil and gas and related sectors are facing the reality of a long period of reduced demand.
"This means that when the government's furlough scheme is due to end, currently at the end of June, some roles will no longer be needed.
"As a result, we have a statutory obligation to begin consultation with the employees that could be affected as well as their unions.
"We currently have as many people on furlough as possible, including at our other sites and projects in Scotland and across the UK."
GMB Scotland organiser Gary Cook said: "GMB Scotland will do everything we can for our members with the resources that we have but we need to be clear, we cannot stem this rising tide of redundancies unless industrial investment and planning is brought forward to help rebuild confidence across the sector."
Image from Walter Baxter released under Attribution-ShareAlike 2.0 Generic