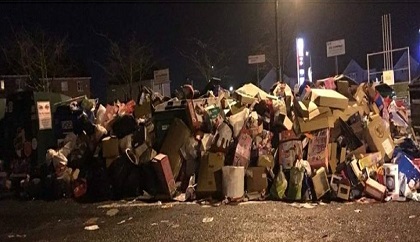 Anyone caught illegally dumping waste in Fife will face a fine
Fifers are being urged to be careful when disposing of rubbish over Christmas, to make sure recycling is not contaminated.
It comes as the council is promising to keep recycling centres open longer this month to cope with the expected extra waste.
But there are warnings anyone caught leaving rubbish outside of bins or illegally dumping it could face hefty fines.
Cllr Ross Vettraino, Convenor of the Environment, Protective Services and Community Safety Committee, said: "Unfortunately, an issue, particularly at this time of year, is the misuse of Recycling Centres and Points.
"Christmas is a busy time and we all know that it can be hard to find time to carry out certain tasks, but everyone is responsible for their own waste and must dispose of their rubbish responsibly, either in their kerbside bins or at a Recycling Point or Centre.
"Previously, there has been illegal dumping at the gates of Recycling Centres after the second day of public holiday festive closures.
"In addition to taking action to ensure that the sites are kept clear, the council will adopt a 'zero tolerance' approach to any such illegal activity and will take steps to identify those doing so."