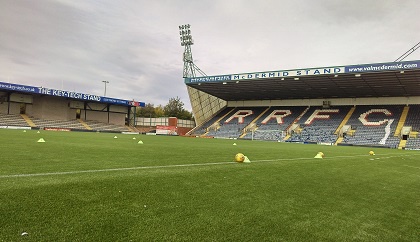 Raith Rovers' chances of getting back to the Scottish Championship have taken a knock, after a 3-1 home defeat to Queen of the South.
But speaking to RaithTV, boss John McGlynn said he is proud of his team:
"I can't hide from the fact they scored three goals, but I felt at half time if it had been two each, it would have been a real reflection of the game.
"I was disappointed to lose the third goal- it was a very cheap free-kick, but we changed and became a bit more direct and in their face and got the goal back.
"We had two or three really good chances and we played some really good football."
McGlynn is hoping his side can prove they deserve a spot in the Championship:
"We will to Dumfries on Saturday hoping to get the first goal and see how they react to that, because they didn't react particularly well to the first goal we got (tonight)."
The Stark's Park side head to Dumfries on Saturday 18 May for the second leg of their promotion play-off final.