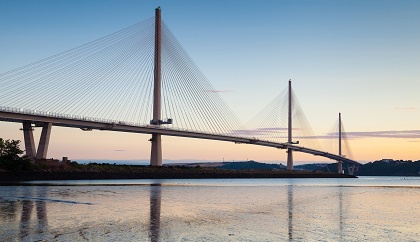 The Queensferry Crossing is said to be working exactly how the Scottish Government thought it would.
They say the wind deflectors are doing their job effectively as transport bosses would have been forced to close the Forth Road Bridge to high-sided vehicles 20 times since 2017.
Journey times across the Forth are also said to have been slashed with the trip only taking 15 minutes at busy times.
Cabinet Secretary for Transport, Infrastructure and Connectivity, Michael Matheson said:
"Even though it is only around 16 months since the Queensferry Crossing opened its easy to forget the frequent and often severe disruption that we witnessed in the past on the Forth Road Bridge.
"The wind shielding on the Queensferry Crossing is doing exactly what it was intended to do. There have now been 20 occasions since the new bridge opened when the FRB would have had to close to high sided vehicles. This improved reliability is delivering benefits for the economy, businesses and commuters.
"This latest set of figures is continued evidence of the improved reliability of the new bridge for those using this vitally important strategic road link across the Forth.
"Around this time last year the initial speed limits on the bridge were lifted and followed by motorway regulations coming into force in the early part of this year. Since then traffic flows have continued to settle down. Now we are seeing consistent journey times in both directions over the Forth, it takes 7 to 8 minutes in normal traffic conditions and around 15 minutes in both directions at peak times. These journey times are now at the level we would expect for a road of this type and speed limit in the prevailing traffic conditions.
"The Queensferry Crossing continues to meet its objective of providing a reliable replacement crossing over the Forth and is delivering clear economic benefits for both industry and commuters, a fact recognised by the road haulage industry."